On March 1, a new year ball was held in Washington, D.C., at the Westin. The event was sponsored by the local chapters of the Fudan Alumni Foundation, the University of Science and Technology of China Alumni Association, the Shanghai Jiaotong University Alumni Association and the Zhejiang University Alumni Association.
Attendees were dressed formally. Gentlemen chose to wear black suits, while ladies opted for colorful dresses or elegant formal attire. The effect was beautiful, and everyone dressed up gorgeously.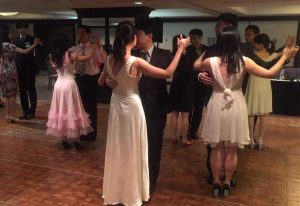 Before the party started, the sponsors provided guests with an array of snacks, such as fruit, vegetables, ham, various cheeses and napoleons. In addition, there were also professional dancers on-site to teach eager guests to waltz. Even though some struggled to learn the specific steps that make up the dance, all participants were excited and tried their best to learn.
The party started at 6 p.m. After a brief welcome speech, there was a beautiful violin performance by attendee Wenyi Zhu.
Then it was on to more dancing, the duration of which was filled with social mingling and dance-themed games. After the dancing wrapped up, guest Xin Liu sang a traditional song, which carried everyone back to old Shanghai. The party continued with an excellent international standard dance performance by one of the dance teachers and culminated in a last free-dance period. Favorites of the night included "the small apples" and "Jiangnan Style," in which a volunteer led the dance.
The party ended around 9 p.m., but students were reluctant to leave and stayed in the hall. Some of them took pictures in front of their university logo, and some left contact information for each other, excited about the newfound friends they had made. Many also said this kind of event was better than previous ones because of the diversity of events included, especially the dancing. All guests agreed that if there were similar events in the future, they would definitely participate.