E-Cigarettes' Liquid Nicotine Poses a Poisoning Risk to Children
I have spent a lot of time as a pediatrician in the emergency department and a brief period of time rotating through the local poison center. While there, I witnessed firsthand the unfortunate perils facing children who accidentally ingest toxins. The biggest takeaway I learned from these experiences is that all too often, these encounters are preventable.
Over the past four months in Maryland, the state's poison control centers have received 16 calls regarding an unlikely exposure source: the liquid nicotine used to refill e-cigarettes. More than 62 percent of these calls involved children under the age of 5 who unintentionally ingested the toxic liquid nicotine, which can be brightly colored and come in flavors that appeal to children like grape and gummy-bear.
Nicotine is a highly toxic substance, and when ingested or absorbed through the skin, it quickly produces serious or even fatal effects in children.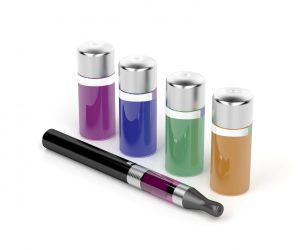 Liquid nicotine comes in a variety of strengths, containing upwards of 36 milligrams of nicotine per milliliter of liquid. At this concentration, a standard-size eyedropper bottle of liquid nicotine would be enough to kill four toddlers, and as little as one teaspoon would be enough to kill one toddler.
Furthermore, liquid nicotine at this concentration comes in small bottles that can easily roll around in a purse or bag, and are within close reach of children. Curiosity is a natural part of child development, but the consequences of such curiosity can be fatal. Sadly, that was the case last December when an 18-month-old boy in New York died after ingesting liquid nicotine found at home.
Currently, liquid nicotine containers are not required to have the same child-resistant packaging that pediatricians and parents depend on to keep children safe from products like household cleaners and prescription drugs. And many parents are not aware of how lethal liquid nicotine can be. The Child Nicotine Poisoning Prevention Act, a bipartisan piece of legislation currently moving through Congress, would give the U.S. Consumer Product Safety Commission the power to require child-resistant packaging on liquid nicotine containers sold to consumers.
With the rising popularity of e-cigarettes, liquid nicotine refills for these products are becoming increasingly more common in households across the country. The American Association of Poison Control Centers recently reported nearly 4,000 adverse incidents related to e-cigarette exposures in 2014, which amounts to a more than 250 percent increase from 2013.
When it comes to liquid nicotine, parental supervision is not enough. But we have an easy solution in child-resistance packaging. We must act quickly to prevent more children from being injured or killed by these dangerous products.