Telling a patient she has cancer has become part of my job as a resident physician. In gynecology, cancer can affect women at very young ages. Some of my patients who have cancer are my age. In fact, thinking about the day my patients had before being seen in clinic — leaving work in the morning to go to your doctor's appointment, finding out you have cancer and returning to work after lunch — is baffling to me.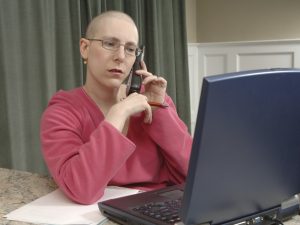 Forty percent of people are diagnosed with cancer while still being employed. For those 40 percent, the reality of cancer is overshadowed by other daily responsibilities; financial duties and everyday work can immediately seem overwhelming. All of these life pressures combined with a health care system that is not always easy to navigate can lead to psychological stress in a newly diagnosed patient.
Managing Cancer at Work is a combination effort between the Blue Rush Media Group Corporation and Johns Hopkins. The program, piloted here at John Hopkins, gives employees a portal to not only access their medical record but also take charge of it. They can do this by getting in touch with a nurse navigator and learning more about their specific cancer.  Furthermore, the program can also be used by workplace supervisors to help newly diagnosed employees deal with their cancer and subsequent treatment.
Last week, this program won a Gold Award at the Digital Health Awards, an offshoot of the National Health Information Awards. Each year, this award recognizes the best digital health resources and therefore comes as no surprise, considering how this program has been able to create a portal that helps patients and employers navigate a complicated health system. Prior awards have been given to other innovative digital health initiatives, such as the Christopher and Dana Reeve Foundation website and the Health Alliance Plan mobile website.
At first glance, a program like this may seem intrusive. However, it does not intend to reveal an employee's cancer diagnosis. Instead, it is meant to give employees the resources they need to work through the diagnosis, while at the same time providing managers the resources they need to help their employees. The program also tries to restore patients' control over their lives at a time when they may feel like they're losing it. Whether it be coordinating their chemotherapy to have their sickest days fall over a weekend — and therefore, have them miss less work — or having a nurse to talk them through their worst symptoms, this program attempts to simplify an often overly complicated and intimidating system for patients.
Facing the diagnosis of cancer is a personal hurdle that each patient does in his or her own individual way. This program tries to ensure that the hurdle they pass does not derail them.