I don't know about you, but during the holiday season, my Facebook feed was full of status updates from friends getting engaged. And of course, each message was accompanied with its own unique announcement photo, ranging anywhere from a glittering hand to said couple's cat with an "I do" sign. Having seen a similar pattern before, I knew this time of the year was coming. It seemed to me that there was something about the holidays that encouraged everyone to get engaged.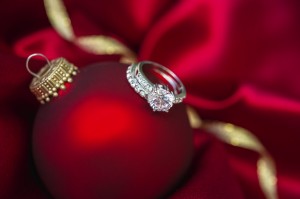 As it turns out, it wasn't just my own intuition. In a recent study, Brides magazine found some interesting trends surround these holiday-timed engagements. Though you might expect Valentine's Day to be a more popular choice for committing oneself to the next step of a relationship, it turns out it's those few weeks between Thanksgiving and New Year's Day that are actually when most engagements occur. In fact, 19 percent of engagements in the U.S. occur in December, the most of any single month. This also makes economic sense, since December often means a nice holiday bonus that can help with the purchase of an engagement ring.
The study also noted several patterns in how newly engaged individuals choose to share such information. Given the amount of activity seen on social media sites in response to such events, it's probably not surprising to know that 71 percent of people who got engaged changed their status on Facebook. Beyond that, 59 percent of them chose to do so with an accompanying picture of the ring. Even big-name social news sites, like Huffington Post, jumped on the holiday engagement bandwagon, featuring a series of couples sharing their winter-inspired engagement photos.
Besides the holiday bonus, some suggest this boost in engagements during the holidays is a result of multiple factors. For instance, many couples use this time as an opportunity to visit family, allowing an opportunity for them to be involved in the occasion. On the flip side, those who do not have the opportunity to be near loved ones during this time might be further inspired to start their own family by getting engaged.
While this type of data can be based on anecdotal evidence or subjective surveys with selection bias, some is also based on market research examining the economics of the season. Either way, it supported my suspicions that I wasn't the only person thinking about this.