Match Day on Social MediaThe buzzing crowd in the Anne and Mike Armstrong Medical Education Building atrium counted down in anxious unison as the seconds made their way closer toward noon, rapidly approaching one of the most thrilling moments in medical school. Moments that shape a life trajectory are few and far between. Yet every year, on a Friday in March at exactly noon ET, graduating medical students all across the country experience this special and important event in their careers at precisely the same time.
It's called the match.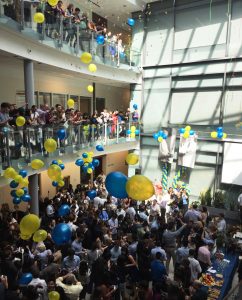 The clock struck 12, and Thomas Koenig, associate dean for student affairs, gave the signal. "Open your envelopes!" he shouted. Confetti and balloons floated from the ceiling. Younger students peered down into the vast, sunlit atrium from the third and fourth floors, looking to see what their futures might hold. For a few seconds, there was only the sound of paper unfolding amid hushed anticipation.
Then, like firecrackers exploding all around the room, there were shrieks of delight, cries of joy, and gasps of relief. "Med16," the next cohort of rising Johns Hopkins doctors, had just learned where they would be spending the next three, four or even seven years in residency, continuing to learn and master the intricacies of medicine and doctoring. As they learned where they matched, so did every other graduating medical student in the country. I can't think of any other major life event or career decision that unfolds in this way, not in privacy by email or phone but through the symbolic opening of an envelope, in unison and surrounded by the most important people in your life.
At Johns Hopkins, Match Day festivities began on the morning of Friday, March 18, when students, their families and friends, and faculty members gathered in the second floor atrium. Next, deans of the school of medicine offered reflections, congratulations and words of wisdom. Then, a selected student speaker took the floor. This year, Tyler Mains offered a moving and insightful speech reflecting on the long and powerful journey taken through medical school: "All of you know how much you've had to sacrifice and how much work it took to get this envelope," he said. As noon approached, Med16 class representatives showed an entertaining and amusing video with members of their class singing their own medical renditions of pop songs. Finally, at 12 sharp, the students opened their envelopes in dramatic fashion.
This year's graduates will be taking their talents all over the country, filling positions at some of the most prestigious and respected hospitals in the world. Many will be staying at Johns Hopkins, a special place that has become home. I asked Mike Foote, who will be starting his residency in internal medicine at Brigham and Women's Hospital this summer, what the match process was like. "The road to the match is like a wave pool, full of surging heights during the interview process when emails are raining down and crashing downslopes when you're far from shore. The eye of the hurricane really didn't happen until Match Day, when in a sun-filled atrium we tightly gripped our champagne glasses with vibrating fingers, toasted our shipmates, and then plied open our final treasure. It was wonderful to see the spoils. The voyage was worth it!"
---
Related Content
A Match Made in Medical School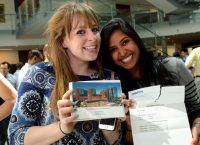 Meet five of our remarkable medical students that matched, and learn what brought them to call Johns Hopkins their home.
Match Day on Social Media
Check out what others are saying about Match Day 2016.