Taking resident education into our own hands
Preparing the next group of medical doctors does not always fall on the shoulders of attending physicians. Residents, themselves, play a very important part in educating each other. To that end, several Gyn/Ob residents (including myself), recent alumni and faculty met in New Orleans to present work we have done in Ob/Gyn resident education. While sharing our work in the "Big Easy," we remarked on how educating the next group of residents is anything but.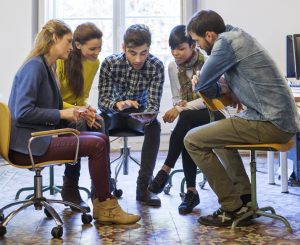 Several ongoing projects were discussed. One of the projects presented has already been incorporated here at Hopkins: cloud-based applications. Recently, the cloud has transformed from a nebulous object in the sky into a creative way for us to carry documents on the go and exchange creative and collaborative projects. My group and I discussed how useful we have found various cloud-based applications to help exchange calendars, share ideas, and ensure that service hand-offs are accurate and up-to-date.
We have used programs like Google Drive, Flubaroo and Dropbox to share useful materials with each other, in a way that is portable, engaging and constantly evolving. Utilizing the ease of access inherent with cloud-based sharing, further applications of such technology were also discussed including clever and easy ways to make podcasts using our phones and computers and share them with each other.
Moving into ongoing education research, first-year resident and recent Johns Hopkins Medical School alumni Lauren Thomaier shared findings from her randomized-controlled trial looking at how effective the laparoscopic and robotic simulation lab was in training medical students on how to use these minimally-invasive methods.
Analysis of these data by fourth year Johns Hopkins medical student Megan Orlando found that robotic simulation training led to higher retention rates of robotic surgery skills. Similar findings were presented in a poster by second year resident Orlando Valle, whose pilot study assessed the efficacy of a simulation technique for teaching residents how to perform vaginal breech deliveries — an uncommonly performed procedure that requires tremendous skill. Valle showed that using simulation, residents can proactively perfect this skill before the need arises to use it in practice.
Overall, the council of resident education and association of professors of gynecology and obstetrics conference was a great way for us to learn how to further enhance the quality education we strive to deliver. Besides presenting our own projects we were able to meet with residents around the country and share novel teaching concepts. We interacted with program directors that were able to determine the feasibility of many of our ideas. Accompanied by leaders in our own department, we celebrated accomplishments we have already made in this field and are inspired to continue.