Hopkins Outreach at the B'More Healthy Expo
Doctors rarely have the chance to provide a variety of free and comprehensive services to patients under one roof, but the seventh annual B'more Healthy Expo at the Baltimore Convention Center was an opportunity to do just that. In a setting where health screenings, informational sessions, exhibits and entertainment were available, members of the community came to a one-stop shop for all of their health care needs. The event, which took place on Feb. 15, was completely free and open to the public. Not only did the expo attract people who were interested in improving their health, but it was also a great opportunity for the uninsured to sign up for affordable coverage.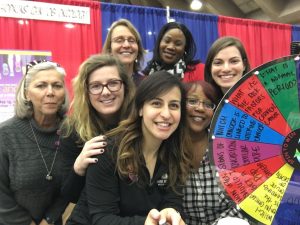 One of the best exhibits was hosted by the Baltimore City Fire Department and provided CPR training to anyone over age 8. A local grocery store, ShopRite, provided healthy food and snack options to expo attendees at no cost. The health department handed out condoms and taught people about sexually transmitted infections, dispelling many myths by educating the masses. Kaiser Permanente screened patients for prevalent diseases, like diabetes and hypertension. Women even had the opportunity, through LifeBridge Health, to get clinical breast exams.
The Johns Hopkins Hospital's presence was also evident throughout the exposition. We hosted various booths, including one for Sisters Together And Reaching, a group sponsored by The Johns Hopkins University that provides support for patients with HIV/AIDS through a mobile van unit. The Johns Hopkins CARES Mobile Safety Center and the Johns Hopkins Children's Center were also present to teach expo attendees how to prevent injury in infants. The Department of Physical Medicine and Rehabilitation showed patients where they can find nearby support in the community.
The Johns Hopkins Kelly Gynecologic Oncology Service also provided information to women about various gynecologic matters and informed them about the signs and symptoms of different types of gynecologic cancers. It also promoted an upcoming race sponsored by the department, the Stride and Thrive 5K and 1-Mile/Run Walk at Goucher College on May 15. All proceeds from this race will help fund gynecologic cancer research, support women and their families, and support our women's cancer survivorship program here at Johns Hopkins.