Social justice and social innovation have recently become buzzwords in millennial circles as focal points for tackling social issues.
In essence, social justice purports a world in which all people have a right to equitable treatment and fair allocation of resources without any form of discrimination. Social innovation is a new movement grounded in the idea of driving social change by focusing on sustainable and efficient solutions that create value for society rather than for an individual's benefit only. In other words, social innovation goes beyond profit maximization to communal goodwill — profit is good, but doing social good is even better.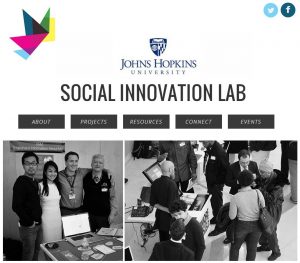 At Johns Hopkins, the Social Innovation Lab (SIL) is one such development with the vision of community building and economic empowerment. The SIL specifically provides the skills and training for social entrepreneurs interested in developing and transforming the city of Baltimore.
This past April, I attended the Impact + Innovation Forum organized by the Social Innovation Lab at The Johns Hopkins University. As it turns out, April also marked the one-year anniversary of Freddie Gray's death. According to various accounts, Gray died from severe spinal cord injuries sustained at the hands of Baltimore police while in transit to the police station.
I witnessed firsthand the subsequent turmoil that followed immediately after Gray's death. It was almost surreal driving home from work on deserted streets due to the citywide curfew, then to show up the next morning to find National Guard personnel blocking the entrance to the hospital. Since that day, I can't help but notice on my daily morning commute to work little memorials commemorating the life of Freddie Gray: street paintings and murals depicting a city that is rising up from the ashes of decades of injustice and institutionalized racism.
Against this backdrop, Ronald Daniels, president of The Johns Hopkins University, made apropos opening remarks on how social innovation may just help overcome despair by creating the social capital, networking and goodwill to drive transformative change in Baltimore. It was a call to action to address practical problems through social innovation and, in particular, to empower individuals from underprivileged backgrounds. On the issue of social justice, he talked about Baltimore as a city of two solitudes. On the one hand, you have a city that boasts a world-class hospital at the leading edge of medical breakthroughs, and on the other hand, a place where a young black man walking the streets is arrested, denied humane treatment and eventually loses his life.
One striking message from the innovation forum was that urgency must conquer fear. The urgency to harvest the best components of technology and entrepreneurship to drive impactful societal change should overcome the fear of changing the status quo. It was remarkable learning about various social ventures addressing important social issues in Baltimore. From Popscope (a group focused on bringing Baltimore together through public astronomy), B'more Healthy Teaching Kitchen (an interactive course for Baltimore residents that includes nutrition lessons and hands-on cooking lessons) and the Greater Baltimore Health Improvement Initiative (addressing health disparities in Baltimore), it was evident that social innovation offered a plausible path toward healing and redemption for the city of Baltimore.
Scaled to the national level, long-standing issues, like institutional racism and associated social justice causes, could be tackled via the social innovation process. Although we may be light years from realizing this ideal, achieving social justice via social innovation could be one of those rare instances of a dream realized — society simultaneously disrupting structures of inequality while forging a path toward a more just world.