The Johns Hopkins University School of Medicine has well-known dual-degree programs, the most famous of which are the M.D./M.P.H and M.D./Ph.D tracks. However, yet another dual-degree program has been in the works over the past several years: the school of medicine and the Johns Hopkins Carey Business School have created a five-year combined M.D./M.B.A. program. This newer program, which typically accepts between one to four students per year, combines the content of the Genes to Society curriculum in the school of medicine and the Global M.B.A. curriculum at Carey. Ultimately, the goal of the combined program is to produce physicians who are knowledgeable about business strategy and finance, and who are able to improve patient care through managing and advancing health care systems.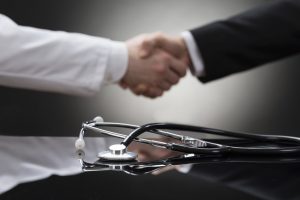 In the case of pursing the two degrees separately, students hoping to pursue an M.D./M.B.A. complete their first two to three years of medical school and then take two years off to pursue their M.B.A. before returning to medical school. The major advantage of the combined program, aside from waiving incoming test requirements, is shortening the training time by one year: Students spend their first year at Carey Business School before coming to the school of medicine. They complete their M.B.A. through electives scattered throughout their four years of medical education.
The schools of medicine and business recognize that some students may not know that they want a dual degree until after they have already matriculated into medical school. These students can still enter the program and complete their M.B.A. coursework between their second and third years of medical school, with the caveat that their scholarly concentration (a research project conducted between the first and second year of medical school) must be business-oriented.
Aside from the M.B.A., students also have the opportunity to pursue a Master of Science in health care management from the business school, a one-year program typically pursued after a student's second or third year of medical school. This degree is less focused on health care system management, but rather allows an in depth study of health care from a policy perspective.
The school of medicine has always demonstrated flexibility in secondary education — each year, several students take gap years to pursue research or further their education, with the intent of starting to lay down the path of their future careers. Adding in an accelerated M.B.A. is yet another exciting opportunity, this time geared toward medical students who hope to influence health care management.
---
Related Content