4 Things to Ask before Joining a Rotation Lab
As the new school year approaches, incoming graduate students will face their first big challenge: choosing their first rotation lab. For graduate students, the lab they join to perform their thesis research will be chosen from the different labs they rotate through in their first year, making these preliminary rotations massively important. Many programs in the Johns Hopkins University School of Medicine and Bloomberg School of Public Health allow students to do short rotations, usually about 3 months, in a few labs before they take the plunge and choose their thesis lab. But how do they choose?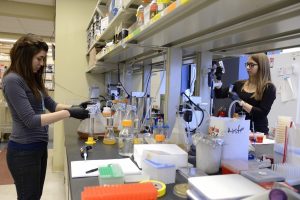 The best lab a student can choose for his or her thesis is a lab in which they fit well. Every student is different, though, so a lab that might be perfect for one is certainly not perfect for everyone. One of the easiest ways to find out if the lab might be a good fit is to meet up with one of the lab's current or past graduate students and ask a few questions about the lab.
Here are some examples of good questions to get the ball rolling:
How often do you see your mentor in the lab?
This might help you figure out your potential boss' style. Some mentors are more hands off, which is great for independent workers, but some prefer to guide you at every step of the process.
What have been some big challenges for you during your graduate work?
While you might not run into the same issues, you might see some glaring problems that are more prevalent in this lab than others. Graduate school is a bumpy ride for everyone, so make sure your potential mentor and lab mates will help you through hard times.
How long has it taken past graduate students to graduate? 
Graduate school isn't a quick endeavor, but you want to be sure the lab you choose helps you to keep growing, even when that means it's time to move on to your future career.
Do you often collaborate with other labs?
A collaborative environment is very helpful when your lab mates aren't able to answer all of your questions. You might find additional support from faculty mentors and graduate students in labs you work with often.
If the lab doesn't have any graduate students you can get in touch with, it could be a good idea to meet up with a technician or research scientist. Additionally, after speaking with other lab members, you still need to speak directly with the mentor about their expectations and their funding situation, to make sure that, given a successful rotation, they have the financial support to fund a graduate student. Of course, once you have your thesis lab picked out, you can pursue rotations purely to learn a skill, to be immersed in a certain area of research, or for a fun learning experience.
New graduate students at Johns Hopkins University can consult their program administrators and utilize the Graduate Student Association (GSA) list of graduate students in your student orientation packet to find graduate students in your potential rotation labs. You can also contact GSA Vice President of Extracurricular Education for a copy of that list.
---
Related Content
Visit our Find a Lab database to find profiles of labs across the institution. You can search by the principal investigator, research area or lab name.