"Can you check my blood pressure?"
This is a common request I get from my co-residents. Even I have taken advantage of the vacant blood pressure cuffs in our clinic to occasionally check my own numbers. Though it seems like medical trainees are constantly surrounded by health care, studies have actually shown that we are, in fact, a population that underutilizes health care.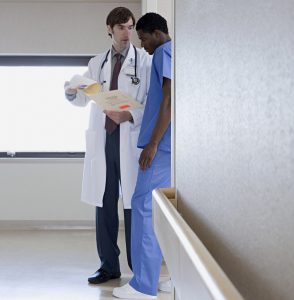 One part of the problem is how closely residents are surrounded by health care. We have the unique opportunity of being in constant contact with physicians, an inherently double-edged sword. Though we often feel a responsibility to take care of ourselves because of this exposure, we also face a privacy dilemma: We work with the providers who will potentially take care of us. As a resident, relinquishing this privacy to our providers also means we share this information with people who evaluate us. This fact has been reported among residents as a barrier to obtaining health care. This is further exacerbated because of the many incentives that encourage residents to stay within their own hospital system for health care. We could alleviate the privacy dilemma by going to a different hospital, but it will likely be more expensive.
Another important factor is the typical hours a resident is expected to work. Average work hours vary daily, but most residents will get to work by 7 a.m. and leave no earlier than 6 p.m. Not only are these long hours, but this varying schedule also makes arranging an appointment with a primary care provider — who typically works between 9 a.m. and 5 p.m. — very difficult. While not perfect, many programs have addressed this need by allowing for excused absences in order to obtain medical care when needed.
Cost is also something that has a major impact on the utilization of resident health care. With the advent of the Affordable Care Act, more and more people have access to health care. Most residency programs also offer health care to their residents and fellows for free, and not being charged a monthly premium has definitely alleviated a tremendous financial burden on many residents. However, some more costly treatments remain out of reach for the resident population. For example, though many residents are interested in starting a family during these prime years, most trainees' student health insurance plans don't cover reproductive technology, making something like in vitro fertilization nearly impossible for residents and their families. In comparison, attending physicians have plans that fully cover this procedure. In Maryland, state law requires that employee health insurance plans that cover pregnancy and pregnancy-related benefits also cover up to three attempts of in vitro fertilization and infertility coverage not exceeding $100,000.
Ultimately, we need to overcome these barriers to make sure these medical trainees can utilize the same care they're giving to others.
---
Related Content
How to Thrive in a Changing Health Care Environment: Read insights from Dr. Paul Rothman, Dean of the Medical Faculty and CEO of Johns Hopkins Medicine.