To maintain wellness in the medical profession, wellness must be brought to the forefront as an issue for the medical community. The emphasis on wellness should start early while physicians are still in their training and continue in the workplace.
At the Johns Hopkins University School of Medicine, the Student Wellness Initiative, led by Jenny Wen and Samantha Roman, is seeking to make wellness a part of student life. With events ranging from a speaker series to a wellness retreat, this group works closely with the administration to ensure that medical students are receiving the support they need from the school. However, the group's leaders have also emphasized the importance of making wellness an integral part of the medical school curriculum and of the culture of medicine nationwide.
As health care providers, we urge others to maintain their own wellness, and yet we fail to follow this same advice when it comes to our own. I have had friends develop severe gastroesophageal reflux disease after surgery rotations when they did not eat for hours on end. Others developed sleeping disorders after a rotation that required them to wake up at 3 a.m. and sleep an average of four hours per night. Still others developed issues such as alopecia and anxiety from the undue stress put upon physicians in training not only from their jobs, but also from the self-imposed, internal pressure to succeed.
This deadly combination of irregular meals, irregular sleep patterns and immense stress is a scourge among medical trainees, but initiatives, like the Student Wellness Initiative (SWI) at the school of medicine, have popped up in medical schools and residency training programs around the country, aiming at helping trainees better care for their own mental and physical health. According to Roman and Wen, Johns Hopkins' student leaders of SWI, the goal of this organization is to "act as the voice representing student interest in wellness to the school administration and community. SWI aims to share why self-care is important, and provide the space and opportunity to learn how to maintain one's own wellness. We also provide an opportunity for students to bring their own vision for wellness to the group."
Throughout the year, SWI hosts the LiveWell workshop series, which brings in speakers to facilitate group discussion and didactics on various wellness topics. SWI has also hosted a variety of other events, including a Healer's Art wellness course, weekly lunchtime meditation sessions, a petition for a wellness director, a peer counseling program and a monthly newsletter, among other activities.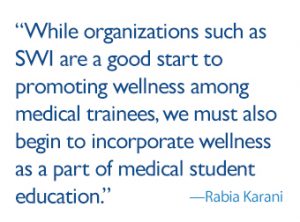 While organizations such as SWI are a good start to promoting wellness among medical trainees, we must also begin to incorporate wellness as a part of medical student education. Roman discusses the importance of integrating wellness into the first- and third-year medical curriculum. Both years are incredibly important times of transition for medical students, during which it is critical that students both have an outlet to explore their thoughts and emotions, and learn self-care habits that they can carry into residency.
Furthermore, according to Roman, by integrating wellness into the medical school curriculum, "the university would show both students and the greater medical community that the administration and the school care about wellness." The issue of physician and trainee well-being has begun to take shape on larger platforms as well. In 2016, it was one of two health care areas targeted by the surgeon general's office, with Surgeon General Vivek Murthy acknowledging: "The suicide and burnout rate [for physicians] is very high … If health care providers aren't well, it's hard for them to heal the people for whom they are they caring."
Although previously, medicine has been seen as a field requiring great self-sacrifice, that mentality is slowly shifting. According to Wen: "The Accreditation Council for Graduate Medical Education Milestones now highlight wellness as a key component of professionalism, and medical schools, such as UCSF and Vanderbilt, are role models." At UCSF, students meet regularly with a psychiatrist throughout their medical training to discuss emotional issues, and Vanderbilt has annual wellness retreats built into its curriculum, while also emphasizing wellness issues in classes and seminars throughout the school year. At Johns Hopkins, the administration has been greatly supportive of SWI, and the group reached new milestones last year, including piloting a wellness retreat for second-year medical students and successfully petitioning the school to hire a wellness director, who will focus on coordinating wellness efforts among schools and institutionalizing wellness initiatives.
While great strides have been made in the last decade in making wellness a topic of discussion in the medical community, there is still much room for improvement. As captured by Wen and Roman: "We can no longer ignore the mountains of evidence that health care professionals and trainees have some of the highest levels of depression, mental illness, suicide, burnout and substance abuse of any group of people. The wellness of providers is essential for the wellness of our patients, and when the medical community as a whole embraces this idea and starts to make appropriate changes to training and practice, we will have healthier, happier providers and patients."
---
Related Content