On Jan. 21, 2017, millions of women around the globe marched in solidarity with women in the United States to protest against various forms of social injustices and misogyny they experience on a routine basis. As I listened to the massive crowds chanting various slogans in repudiation of perceived inequities, one message rose above the din of the streets — it was time to dismantle the structural impediments to women's rights in this country and around the world.
Taken within the context of the gross inequities against marginalized groups — immigrants, individuals with disabilities, people from minority ethnic groups — the rallying cry for justice was a civil rights era message redux. It became self-evident that in spite of decades of progress in breaking down barriers for disadvantaged groups, we were still far from an egalitarian society. In America, we continue to wrestle with various forms of ethnic and gender discrimination, with potentially devastating consequences for our society and institutions. Although much progress has been made since the industrial revolution and the civil rights era, some things remain unchanged.
In the 1960s, women working in the science, technology, engineering and math fields had the particularly daunting and unpleasant task of proving their mettle in what were sometimes downright hostile working environments. For women of color in the Jim Crow era, it was double jeopardy dealing with gender and race in the work place. About one week ago, I saw the movie Hidden Figures, which crystallized the issue for me and underscored why the recent women's march on Washington resonated so powerfully. The movie is adapted from a nonfiction novel, Hidden Figures: The American Dream and the Untold Story of the Black Women Mathematicians Who Helped Win the Space Race by Margot Lee Shetterly. It highlights the true-life story of three inspirational African-American women, Katherine Goble Johnson, Dorothy Vaughn and Mary Jackson, who worked at the NASA computing office in Hampton, Virginia.
At the time, America's space program was lagging behind that of Russia, which had just launched Sputnik into orbit. Goble Johnson, Vaughn and Jackson were part of the Space Task Group, whose role was to work on computations that would eventually help launch the Friendship 7. In segregationist Virginia, they were forced to work in a prejudicial environment, which restricted them to using "colored-only bathrooms" and "colored computers." Back then, all computations were done by hand, and "computers" referred to the actual people who carried out the calculations. Johnson's calculations established the trajectory of America's first space trip in 1961.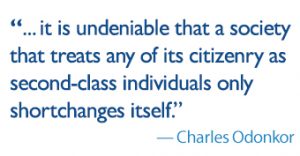 Throughout the movie, the futility and ridiculousness of segregationist and discriminatory policies become abundantly clear as the women strive to prove their worth to the program. What happens when we don't accommodate and encourage diversity of talent? Hidden Figures provides a sober reflection on the potential dangers of discrimination to human progress and the concomitant loss to society when minority groups are denied opportunities for meaningful contributions.
As we celebrate Black History Month, it is only fitting with the recent release of Hidden Figures that we acknowledge the invaluable contributions of disenfranchised groups and realize that our collective progress falls short of its mark without erasure of any kind of discrimination from our society.
It is telling that prior to the release of this movie, very few people, including myself, knew of the extraordinary contributions of these African-American women to the United States' space program. In fact, it was not until November 2015 that President Obama recognized one of the women, Johnson, with a National Medal of Freedom. In many ways, their struggles as portrayed in Hidden Figures echo those of many women protesting at the march in January. Although women make up about 51 percent of the U.S. population, they held only 24 percent of full-time professorships in science, health and engineering departments across all institutions. So the struggle continues.
As one of the popular signs at the march reminds us, "Girls just want to have fun-damental rights," and this is something we should support. Reflecting on the lessons from the movie and the weekend march, it is undeniable that a society that treats any of its citizenry as second-class individuals only shortchanges itself. It is therefore high time we push for equal rights for all, working in solidarity to eliminate discrimination against women and all marginalized groups.
---
Related Content