It's often said that it is hard to imagine what life must be like for someone until you have walked a mile in his or her shoes. It took me less than a mile to venture to my local Planned Parenthood. Located right up the street from the Johns Hopkins medical campus in the heart of Baltimore, this massive clinic has done so much for our city. As an Ob/Gyn resident at The Johns Hopkins Hospital, I have had the benefit of being able to work here. This, however, was not my first exposure to Planned Parenthood. My own personal experience began years before, when I fell through the cracks of my health insurance plan and could not find affordable and accessible care anywhere else.
In the few months between finishing my undergraduate education and starting medical school, I lost my health insurance. The premium to start a plan in those short months when I had already taken out so many loans to pay for medical school and didn't have a source of income was more than I could afford. I decided to test my luck and simply try not to get sick for the time being. I failed to remember that I had been receiving monthly birth control pills through my previous insurance plan and was nearing the end of my final pack. A quick search on the internet brought up Planned Parenthood as an alternative option where I could continue to receive my birth control prescription without paying the steep out-of-pocket cost.
It wasn't until then that I realized how much Planned Parenthood offers. In 2007, Baltimore had the fourth worst infant mortality rate in the nation. Leana Wen, our city's health commissioner, attributed Baltimore's recent lowest infant mortality ever to the city's partnerships with Planned Parenthood, which has worked to improve post-natal care.  This decline in infant mortality parallels a sharp decline in teen pregnancies in Baltimore. While a causal effect cannot be drawn, one cannot help but notice this drop occurred simultaneously. In addition to providing services, Planned Parenthood of Maryland, together with Maryland's legislature, helped pass the Maryland Contraceptive Equity Act in May 2016. This law, which will go into effect on Jan. 1, 2018, will eliminate copays for birth control, allow women to receive a six-month supply of birth control at one time (making it easier to take it more effectively), lift the requirement for prior authorizations on IUDs and even impact male reproductive health by removing copays for vasectomies!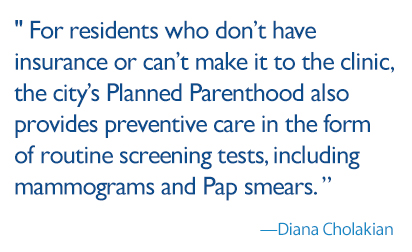 While this law highlights one of the different ways that Planned Parenthood has helped men and women alike in our community, I was surprised as a resident how many women I saw in my clinic who were referred to me from Planned Parenthood because their Pap smears showed precancerous cells. For residents who don't have insurance or can't make it to the clinic, the city's Planned Parenthood also provides preventive care in the form of routine screening tests, including mammograms and Pap smears. Although it is hard to determine how many cases of cervical or breast cancer have been detected by the tests ordered out of Planned Parenthood, we do know that offering these simple screening tests helps to detect specific cancers at their earliest stages and prevent morbidity.
With such a long list of beneficial services offered, it is clear that Planned Parenthood has had a dramatic and positive impact on Baltimore, one that relies on the support, donations and volunteer hours of our community if it is to continue. Appropriately, the Johns Hopkins Medical Student Senate has chosen to donate 100 percent of this year's proceeds from its annual Monte Carlo night benefit to Planned Parenthood of Maryland. The evening should serve as an important reminder of the opportunities that Johns Hopkins students and staff members have to invest in the health of the community, our patients, our work environment and our city.
---
Related Content