We live in a tumultuous time for politics across the country. Although our country may remain divided on key issues, we can all agree that with rapid legislative changes and dynamic dialogue about an uncertain future, it is ever more important for people to engage with legislators and lawmakers to shape the future they want to live in.
Even in medicine, at all levels, physicians continue to step into the role of policy makers and leaders; currently, the 115th United States Congress has three physicians in the Senate and 12 physicians in the House of Representatives. As a medical student, I feel compelled to stay informed and engaged on issues within and beyond the realm of health care, and I am beginning to reach out and discover new opportunities to learn about the world of policy. One of those opportunities has been through MedChi.
The Medical and Chirurgical Faculty of the State of Maryland, or MedChi for short, is officially known as the Maryland State Medical Society, which dates back to its origins in 1799. The mission of MedChi is to "serve as Maryland's foremost advocate and resource for physicians, their patients, and the public health." MedChi serves as an advocacy body and resource center for over 22,000 licensed physicians, 24 sub-medical societies , and is a component of the American Medical Association.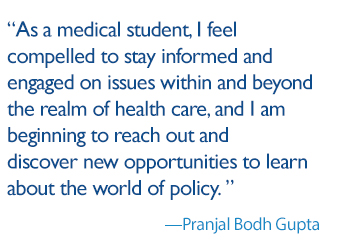 I first became involved in MedChi simply by responding to an email invitation sent out to our medical school to sit in on a General Assembly meeting of the Maryland state government, a body that MedChi advises regarding medically-related legislation. As I quickly learned, MedChi, although primarily for practicing physicians, is extremely receptive to students in training. Beyond being offered free and full membership into the society, we were personally welcomed into the meeting by the CEO of MedChi, Gene Ransom III, who educated us about MedChi, set up meetings for us to meet legislators and even gave us his personal contact information.
As a first-year medical student, I traveled to Annapolis, Md., and met with a few delegates in the General Assembly who were physicians by training. I spoke with them about their role as physician legislators, and also sat in on a House of Delegates and Senate meeting as they voted on key statewide legislation. I then had the opportunity to attend the MedChi House of Delegates meeting, a MedChi Presidential Gala and a recap of legislation meeting, where I learned about current legislation being passed internally to MedChi, as well as the future of MedChi.
This has been an incredible learning experience. I've already begun to form a network of politicians and physicians who understand the physician's role in tomorrow's policy-making, and I've experienced legislation in action, firsthand. Furthermore, I'm planning on attending the American Medical Association annual conference next month to submit a resolution, a piece of legislation that could impact the policies of the AMA's Medical Student Senate and, eventually, perhaps influence AMA and even national policy.
Although I'm still unclear about what my future holds, this experience has given me an insight into the career path of being a physician-politician. Whether this manifests as an elected position or simply being engaged in leadership and governance, I know that this exposure in my training will lead to lifelong skills and lessons.
---
Related Content