Two years into graduate school at Johns Hopkins, it's still hard to believe that I'm here. After a year of undergraduate research at the University of San Diego and a summer at the University of Wisconsin–Madison, I remember entering my senior year of college more positive than ever that a Ph.D. program in the biomedical sciences was the obvious next step. Eager to barrel forward in my scientific career, it wasn't long before I had assembled an extensive list of potential schools, and I dived into the application process head first. Soon, graduate school applications will be opening, and Ph.D. hopefuls will be assembling their own lists of potential schools, writing personal statements and scrambling to ask advisers for a letter of recommendation. Here are some tips for anyone starting the application process, from someone who's been there and done that.
Be organized. The tricky part about applying to Ph.D. programs (as compared with medical school, for example) is that there's very little standardization. Most schools have their own application, and some have separate applications for separate programs within the same school. Even worse, each application tends to have its own unique guidelines, including submission deadlines, personal statement prompts, and length requirements. There is no single, standardized application that you can send to all programs, which means that you're going to have a lot of log-in names and passwords and information to keep straight. Before you start anything, I would recommend looking at each program's website for key information, including the application deadline, application fee, number of letters of recommendation, testing requirements, stipend amount (or if the program offers a stipend), and personal statement length. Keeping this information organized allows you to make sure that you don't accidentally miss an early deadline or fail to send the correct number of letters to a school—simple mistakes that should be easy to avoid.
Be thorough. Almost every graduate student I know went on at least one interview for a program they didn't realize was nothing like what they wanted until after they got to the interview weekend. Many graduate programs have seemingly interchangeable names—some combination of the words cellular, molecular, biological, biochemical, medical, or physical, often with different prefixes (bio-, patho-, neuro-) thrown in front. To an eager pre-Ph.D., it's easy to assume that they're all some derivation of a similar program, but often this is not the case. Before spending money on the application fee, look at a program's specific curriculum and faculty list. If none of the research or coursework sounds like what you're interested in, it may be difficult to find a lab in which to complete your thesis. Similarly, there may be other simple criteria you can use to rule out schools before applying. For instance, I knew I wanted a mid- to large-sized program; however, I didn't look into class sizes prior to applying. I showed up at several interview weekends where the classes were much, much smaller than I wanted, and I had the unpleasant feeling that I was wasting the program's resources and taking the interview spot of another qualified applicant.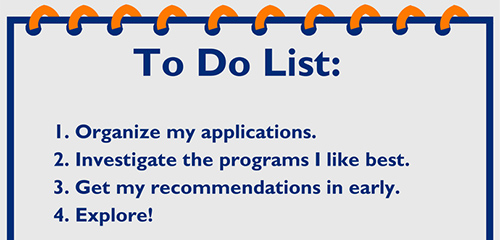 Be early. When asking for letters of recommendation, give professors at least three- to four-weeks' notice. Writing a letter can take time, and depending on how busy your mentors are, they may have priorities that prevent them from simply whipping something up on demand. Also, if you're able to submit your application before the deadline, many schools look at applications in the order that they are received. You might receive an early, unexpected interview weekend invitation, if you're on the ball and able to submit before the flood of other applications hits.
Be unafraid to explore. Although I said that you should research a school to make sure it's what you're looking for, you may not know what you're looking for, and that's okay! I applied to 18 programs at 12 schools, ranging from Seattle to New York City, because I honestly had no idea where I wanted to go. It's important to research whether a program fits your interests, but you may also be open to changing fields. If a school is interested in you, they'll send you an invitation sometime in January or February to come interview and spend a weekend visiting their campus, interacting with their students and professors and seeing the surrounding area. These weekends were my favorite part of the application process and can help you to form ideas about what you want in a program. if you're unsure. Although the application fees certainly aren't cheap, it may be worth adding one or two programs you're curious about.
Good luck to any applicants beginning the admissions process; and I encourage you to look into any of the dozens of Ph.D. programs offered across the Johns Hopkins campuses!
Want to read more from the Johns Hopkins School of Medicine? Subscribe to the Biomedical Odyssey blog and receive new posts directly in your inbox.
---
Related Content