The American Medical Association, or AMA, is the largest association of physicians and medical trainees in the United States. This organization has also established itself as one of the most powerful political lobbying groups in the country, ranking third in dollars spent for this purpose over the last 20 years. Additionally, the AMA has a very active medical student base, the Medical Student Section (MSS), which meets biannually for national meetings just like its parent organization, the AMA House of Delegates.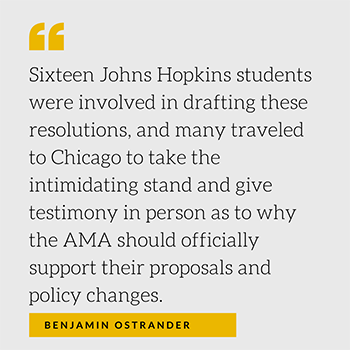 Johns Hopkins medical students have a long history of involvement with health policy at the local, state and national levels. Currently, there is a thriving AMA-MSS chapter, which has participated in a variety of activities, from spearheading the authorship of policy resolutions to organizing interesting events and panels on campus. Hopkins members have also assumed leadership roles in the region and partnered with MedChi, the Maryland State Medical Society, to learn about and effect health policy in Maryland.
In early June, the Johns Hopkins AMA chapter sent a strong contingent of students to the AMA annual meeting in Chicago. Before the meeting, the student group came up with ideas for policy changes they would like to be supported by the AMA at large, and collaborated with MedChi to first pass these ideas at the state level in April before moving to the national stage.
Putting these policy ideas into practice is a long journey. From initial conception, policies and proposals must be drafted in "resolution" format. A resolution is an official, formal proposal that asks the AMA to take a position and/or an action through very specific statements called clauses. After initial drafting, resolutions must then be submitted electronically for review. Only after being vetted via this electronic review process are resolutions considered for discussion and voting on the floor at a national meeting. At this stage, authors are asked to give testimony and defend their proposals in a large hotel conference room filled with hundreds of passionate medical students, residents and physicians with diverse opinions and political affiliations. This is often a defining, make-or-break moment for a new health policy or proposal.
Remarkably, eight resolutions were authored and successfully defended at the recent AMA Annual Meeting of the House of Delegates. Sixteen Johns Hopkins students were involved in drafting these resolutions, and many traveled to Chicago to take the intimidating stand and give testimony in person as to why the AMA should officially support their proposals and policy changes. Topics included "Increasing the Legal Age of Purchasing Ammunition and Firearms from 18 to 21," "Decrease Adolescent Mortality Through More Comprehensive Graduated Driver Licensing Programs​," "Expanding On-Site Physician Home Health Care to Low-Income Families and the Chronically Ill," and "Emerging Technologies (Robotics and AI) in Medical School Education," among others. The resolution on ammunition purchasing age received national media attention from news outlets, including The Washington Post, TIME, Forbes and CNN.
Current president of the Hopkins AMA chapter, Neha Anand, reflects on her experience at the national meeting, the challenges of policy change at the national level and what she has learned from her involvement with the organization: "The annual meeting was a whirlwind of excitement and a tremendous learning experience. A lot of strategy was invested in how we could get our resolutions passed, and it was interesting to see how it played out." She also explained how one of the most meaningful and rewarding parts of playing an active role in the AMA "is working with the amazingly motivated and passionate students of the Hopkins AMA chapter and the MedChi Medical Student Section. We all have a strong interest in policy but are still learning the nuances of how to navigate the process of the AMA, which can be quite complicated and confusing at times."
These students seek to create real impact. When I was actively involved in the AMA as a second-year medical student a few years ago, we struggled to surmount the often frustrating and convoluted bureaucracy that pervaded policy at the national level. Yet this year, the students succeeded. "It was surreal to realize that we as medical students had this impact on the AMA and through the AMA's further lobbying efforts, hopefully an impact on policy in our country as a whole."
---
Related Content