Helping Dogs Live Their Best Lives Through Training
I grew up with vizslas. They're a pretty rarely seen dog breed, although they are #31 out of 192 breeds in the American Kennel Club (AKC) breed popularity ranking. The breed originally hails from Hungary, although there are many breeders in the United States. Vizslas faced extinction during both World War I and World War II, and Hungarians fleeing Russian occupation saved them during the latter. Vizslas are great — loyal, friendly and happy — and they are beyond energetic. I tell people that my older dog, Padfoot (who is now 6), is "the most doglike dog they can imagine" — a bouncing, 40 pound, muscular bundle of joy who has two settings: on, and off (asleep). When I got Padfoot, I knew I would need to give him a job to focus his energies, both mental and physical, and to decrease the likelihood of him using those energies to destroy my belongings.
In veterinary school, we learned a bit about companion animal behavior. It came as something of a surprise to me, a lifelong dog owner, that canine body language isn't as straightforward as we may think. Much of what we ascribe to dogs is anthropomorphized and not quite accurate — for a good chart on how to read dogs, check out the website of the late Sophia Yin, veterinary behaviorist. Less of a surprise to me, with an at the time 4-year-old Padfoot, was that dogs need jobs nearly as much as humans do. We were told to imagine sitting at home all day with nothing to do. Maybe there are a few toys to chew on, maybe not. Maybe the radio or television is on so we have sounds to distract us, or maybe not. When our people get home after work, we are understandably overjoyed! And then they need to make themselves dinner and wind down from a stressful day at the office, leaving us to continue hanging out and entertaining ourselves. When put in that way, it became easy for my classmates to understand why dogs sometimes become "the worst" — destroying furniture, clothing, even our homes (Padfoot ripped up a bunch of cork tile in my first apartment, and pulled stuffing out of an ottoman) — when bored and left to their own devices!
A dog can be trained to perform several types of jobs. Herding is exactly what it sounds like — dogs are taught to guide animals (often livestock) through a series of locations to a final destination, with only voice cues from their owner. Flyball is a fast-paced relay race in which dogs leap over four hurdles, retrieve a tennis ball from a spring-loaded box and come back over the hurdles so the next dog can repeat the sequence as quickly as possible. Scent work engages a dog's naturally excellent scent to locate a specific smell, and can be used both for fun and to train dogs for various real-life jobs, including search and rescue and drug sniffing! Most dogs can learn to do any of these jobs, but some are naturally better at one job than another. For example, border collies, who are very fast and focused, excel at flyball, and bloodhounds, with their acute sense of smell, excel at scent work. These aren't hard and fast rules, however — some border collies prefer scent work, and I'm sure there are bloodhounds out there who love flyball.
The canine sport I picked is agility. The goal is to follow a preset course that can include bars to jump over, floating hoops to jump through, seesaws, weave poles, an A-frame to run up and over, and a dog walk, which is a long, raised platform with ramps leading up to and from the sides.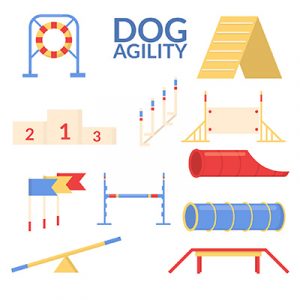 Once your dog learns all the obstacles, and you can confidently lead him or her in the right order, you can compete through one of several organizations including the AKC, Canine Performance Events and the United States Dog Agility Association.
I was tremendously lucky during veterinary school because I lived about 15 minutes away from an awesome training facility, and my best friend from school, Becca, had experience in training agility! Padfoot and I progressed through agility with vast support from Becca and the expertise of the trainers at the facility. When I moved to Baltimore for my postdoctoral fellowship, I knew I needed to continue his training — it's so fun for both of us, and it allows us to work together as a team. Luckily, the Oriole Dog Training Center in Halethorpe has classes running throughout the year, and Padfoot and I have settled into training there. I'm even considering starting training with my newly 1-year-old vizsla, Lupin.
We never managed to compete during school, because of our challenging schedules, but I hope to lead Padfoot through an agility competition in the future. Here's a video of us at a recent training session. He loves it as much as I do, and the drive to Halethorpe is worth it to see his goofy grin at the end of runs. So, if you have a bored dog at home, or if you are thinking about getting a dog and want to make sure they have the best possible life with you, consider trying one of these sports to help your dog burn energy and to build your bond with the dog.
---
Related Content