This past week, the first ever "JHU Forum on Race in America" took place with speaker Ta-Nehisi Coates at the forefront. Ta-Nehisi, a prominent writer for The Atlantic, is an active advocate for contemporary issues.
Though scheduled months in advance, the talk could not have come at a more appropriate time in Baltimore, with recent unrest in the city forcing many to consider racial issues more critically in their own lives.
The talk was structured in three major parts. After a brief introduction by Nathan Connolly, an assistant professor of history at the Krieger School of Arts and Sciences, Ta-Nehisi took the stage and delivered an impassioned speech highlighting what he believes to be the critical issues underlying the racial problems in America. Specifically, he focused his attention on the underlying, and sometimes unobvious, society-wide practices that promote racist policies within this country.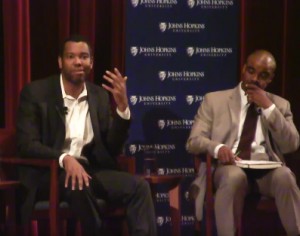 Drawing the attention of the audience toward these ideas, Ta-Nehisi elegantly pointed out the underlying mechanisms that fuel the type of behavior we see. When given the proper context, it becomes obvious that these responses are not the cause, they are a reaction. And understanding why they occur is paramount to beginning to solve these problems.
When talking about the recent violence in Baltimore, he derided general condemnation of the actions. Instead he reasoned, "the lives of black people in this city – the lives of black people in this country – have been violent for a long time." Why, then, would it be so surprising that they reacted violently now?
With these ideas in mind, Ta-Nehisi ended his speech and joined Nathan Connolly, and Dr. Debra Furr-Holden, associate professor at the Bloomberg School of Public Health, for a conversation. During this dialogue, the three panelists touched on similar ideas, and expounded upon concepts from some of Mr. Coates' books. All along, the same themes were echoed: These problems originate much higher than the visible reactions we see. To make real change, we must address the issues on a systemic level.
The event wrapped up with a Q&A session where audience members were invited to interact with the panel with their own comments and questions. One viewer in particular asked a question about how to deal with the sense of defeatism one can feel when faced with such a daunting task as trying to change hundreds of years of racial inequality.
Ta-Nehisi scoffed at the idea, saying young people, "have no right to feel defeated...," reminding everyone that people have been struggling against these and far worse issues for years and that hadn't stopped them.
As the event drew to a close, Ta-Nehisi left his audience with a lasting and profound remark, echoed by his fellow panel members. He called upon us all to, "…not hide behind our own guilt." But rather, be "thinkers" and force ourselves to struggle with the issues even, and perhaps especially, when they're uncomfortable.