At the American Association for Cancer Research (AACR) Annual Meeting this past April,  Donald Coffey, Ph.D., was honored with the ninth annual Margaret Foti Award for Leadership and Extraordinary Achievements in Cancer Research. The award recognizes individuals whose leadership and achievements have demonstrated a major impact in the cancer research.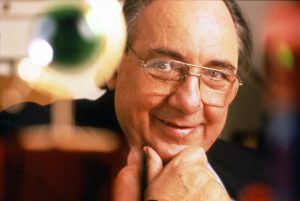 The contributions Dr. Coffey has made to science are enough to fill a compendium of the history of cancer research, garnering some to give him the nickname "the Yoda of prostate cancer research." Currently, Dr. Coffey is serving multiple appointments at Johns Hopkins as a professor of oncology, pharmacology and molecular sciences, and pathology, and as a Distinguished Service Professor of Urology at the Brady Urological Institute.
Best known for providing the seminal discovery that DNA synthesis occurs in the cells' nuclear matrix1, Dr. Coffey's observations have also translated into a better understanding of what makes a cell "normal" and what makes one "abnormal," as in the case of cancer. In addition to this, Dr. Coffey was the first to establish methodology to identify prostate tumors that are androgen insensitive2. These particular hormone-resistant prostate cancers are deadly, since they continue to grow despite current treatments that target the androgen pathway. He is also responsible for providing the groundwork for identifying telomerase abnormalities in prostate cancer, which led to the first prostate cancer gene therapy trials3.
Aside from his scientific discoveries, Dr. Coffey helped recruit and train many of the Johns Hopkins Kimmel Cancer Center's prominent investigators, including Bert Vogelstein, William Nelson, John Isaacs, William Isaacs, Alan Partin, Ken Pienta and more, many of whom are now leaders in their own respective fields. On Dr. Coffey's life, Director of the Department of Urology Alan Partin said in a story segment: "Don's legacy is clear: It's the people that he's trained. And most of us will leave behind a legacy ... one or two mentees ... but Don leaves behind an entire battalion of people."
But despite his enormous contributions to the cancer field, those who have interacted with Dr. Coffey best know him as an extraordinary communicator and mentor who frequently thinks outside of the box. Indeed, many researchers I have talked to have fond memories of long conversations with Dr. Coffey that often took unexpected twists and turns, sometimes traveling far from the original discussion only to return to the original point with a fresh take on the broader picture.
From a young boy who changed car tires while working at a service station to being one of the most influential leaders in cancer research, Dr. Coffey's journey is inspiring, and his leadership, mentoring and discoveries makes him a worthy recipient of this award.
In his own true style, Dr. Coffey gives his perspective of what lies ahead for the future: "There's more to this [world] than any of us know. And there's more beauty and excitement, and things that we're just beginning to figure out."
Human androgen receptor binding to the androgen response element of prostate specific antigen. J Androl. 1994.