The white coats these days are at their starchiest, the haircuts are fresh and even the Tylenol orders are being triple-checked — it's July again at The Johns Hopkins Hospital. That is to say, the academic medicine new year has come and gone, and a flock of some 26,000 wide-eyed but eager new physicians have begun their internships nationwide.
As exciting a time as July is for these neophytes, this is also a time to look forward to the career that awaits and arm themselves for the challenges therein.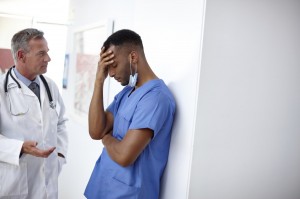 It is hardly novel to say that medical training is difficult. The oscillation between thrill and doubt that is inherent in the educational evolution of a resident provides a milieu that may encourage learning through memorable experiences but also can promote burnout. Not to mention the long work hours, circadian disruption, social isolation and heavy work-life interference that characterize the residency experience.
Burnout is now a hot topic in medical education research; a PubMed search using terms such as "cynicism," "depersonalization," "burnout" or "professional exhaustion" will reveal a long list of studies with grim findings. A validated scale of burnout even exists for researchers who wish to test interventions that may prevent it or slow its progress. And, unsurprisingly, the phenomenon is not limited to physicians, but expands to caregivers of all kinds.
Last month, psychiatrist Emily Holmes presented epidemiological data on residency burnout at this year's American Psychiatric Association annual meeting. Surveying 504 resident physicians across several specialties, her team found that a majority of residents met validated criteria for burnout. General surgery, radiology, surgical subspecialties, anesthesiology and internal medicine had the highest rates among their residents, whereas pediatrics, family medicine and pathology had the lowest. Using the Patient Health Questionnaire-2, a common screening tool used to detect depression in the outpatient setting, she found that 17 percent of residents overall had positive screens. Eight residents had endorsed suicidal ideation within the two weeks prior to taking the survey. It is important to note that burnout and depression are distinct phenomena, but these data are striking.
We have a better sense of the epidemiology of the problem, it seems, but what is the solution? Data on the efficacy of specific interventions are generally lacking, and the answer is likely to be an idiosyncratic one. What may prevent burnout in me is likely to be a different tincture than would best serve my colleague, say, in plastic surgery. But residents commonly lament their inability to maintain their out-of-hospital interests, such as hobbies, exercising or artistic endeavors, as causing their distress. They cite a feeling of depersonalization that occupies their psyche in the workplace, in which they are continuously adjusting their personas to the varying demands of their work.
It follows that this time — for those in new white coats or scrub outfits — is an important time to establish a pattern of self-care. You'll be checking off boxes all day as you get your work done for your patients; make sure you check off the boxes that remind you of the meaning in medicine. Foster those activities that are regenerative for you, whether through relationships, literature, food or alone time. Be sure to have some time when you don't take yourself so seriously. What was it that brought you to the medical field in the first place? What elements of your character do you not want to be altered by your training experience? In which ways would you like to grow?
Be gentle on yourselves, and good luck.