In 2015, the Centers for Disease Control and Prevention reported that use of electronic cigarettes (e-cigs) among middle and high school students had tripled in just one year. Data from the 2014 National Youth Tobacco Survey showed that the numbers jumped from 660,000 high school students in 2013 to 2 million in 2014.
These e-cigs are often promoted as equally enjoyable but less harmful to the lungs than firsthand or secondhand smoking of actual tobacco products. But findings from a new study add to a growing list of health concerns for e-cigs. Specifically, researchers report conclusive evidence that vapors from e-cigs induce DNA-strand breaks that can then set the stage for cancer.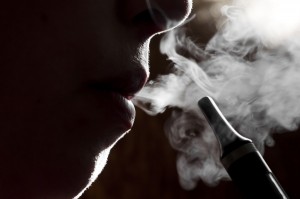 E-cigs work via a battery-operated vaporizer that aerosolizes the "e-liquid" in place of burning actual tobacco. Among additives, flavoring components and nicotine, the e-liquid also contains formaldehyde, a known carcinogen. But before now, no one had tested the effects of these vapors at the cellular level.
Researchers from the University of California, San Diego, treated cells with vapors extracted from two of the most popular e-cig brands on the market, V2 and VaporFi. In both normal epithelial cells and head and neck squamous cell carcinoma cell lines, the vapor extracts increased DNA damage by inducing single- and double-stranded breaks. Furthermore, the cells exposed to e-cig vapors were more than five times as likely to experience cell death (apoptosis) and cell dying (necrosis) over untreated control cells.
To address the effects of nicotine, the researchers tested two versions of the e-cigs, with and without the additive agent. They found the nicotine version induced a tenfold increase in cell death, corroborating previous findings on the toxicity of this chemical. Surprisingly, the researchers noted that the nicotine-free vapors also induced cell death, at a fivefold increase over untreated controls.
These results imply that going nicotine-free is not the "healthier" option. Though nicotine is clearly harmful to cells, it is not the only cytotoxic agent. Even in the absence of nicotine, the e-cig vapors were sufficient to induce DNA-strand breaks. This points to other toxic ingredients in the e-liquid mix that have yet to be described. But with more than 500 brands of e-cigs on the market in more than 7,000 flavors, it won't be easy to identify the other noxious components of e-liquids.
Arguably, the surge of e-cig use is largely attributed to mass marketing of the device as a smoking cessation tool or as a safe and healthy alternative to actual tobacco smoking. While the scientific evidence for these safety claims is still lacking, there is mounting evidence of the harm that e-cigs can cause. In their own words, the researchers simply conclude that "electronic cigarettes are not as safe as their marketing makes them appear to the public."