Recently, as I've been spending more time in various clinical settings, I've noticed a striking lack of patients who can say they have a designated primary care doctor.
Evidence has shown that primary care has an incredibly beneficial effect on population health. The work of generalists, such as family medicine physicians, pediatricians and internists, reduces the number of hospitalizations and prolongs life for their patients. Yet there is a huge shortage of primary care physicians, with an estimated requirement of 52,000 more primary care doctors by 2025 due to the expected growth of the aging population.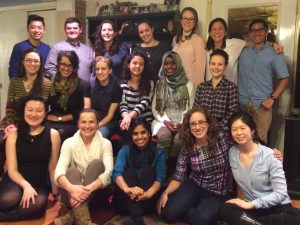 A team of students and faculty members here at Johns Hopkins recognized this need to encourage the development of leaders in primary care. Adi Rattner, a fourth-year medical student going into family medicine, is part of the group, known as Johns Hopkins Primary Care Progress, since her second year of medical school. "We had these brainstorming sessions and would ask ourselves, 'What can we do to change the culture around primary care at Hopkins?'"
One of the ideas that arose was to create a new primary care track at the Johns Hopkins University School of Medicine. Efforts to create an effective curriculum to train future leaders in primary care began in early 2014 and were led by Juliana Macri, a fourth-year medical student. Medical students like Macri and Rattner hoped that the track, named the Primary Care Leadership Track, would open doors for Johns Hopkins to be not only a mecca for specialty care but also for superb primary care.
The track was launched earlier this year with nine students from the school of medicine Class of 2019. Designed as a four-year track that medical students can apply for during their first year of medical school, the track is also a visible resource for faculty members and residents in primary care. Colleen Christmas, director of the track, is thrilled with the enthusiasm of the first cohort of students. "Holy smokes — they are incredibly bright and phenomenally talented," she shares. "They are committed, driven and idealistic in a way that can be cultivated to make them effective future leaders in primary care."
For Anna Goddu, a first-year medical student, finding out about the track was beyond exciting. "I've always been interested in the health care that goes on outside of the walls of the hospital. Primary care allows me to mix my intellectual interests with my activist passion for social justice and community health."
The track is composed of a workshop-based curriculum, a strong mentorship program, primary care research opportunities and a four-year clinical experience, in which groups of medical students across all four years take care of a panel of patients together. For Goddu, she's especially looking forward to learning to care for patients with her peers in a clinic setting. "I'll be able to walk out of Hopkins with hard skills in team-based care with an ability to employ them in actual practice."
The formation of the track is only the first step of many to increase the primary care presence and culture at Johns Hopkins. "We have a lot of amazing primary care physicians in the Hopkins system," says Rattner. "Through efforts like this, we can bring them into the same conversation, create more community and celebrate them." We look forward to seeing how the inaugural class of the track will shape primary care in the future.
---
Related Content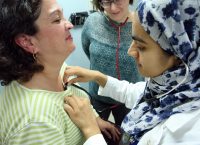 Strides in Primary Care
New professorship and other efforts bolster an under-recognized specialty
Primary Care 101
Clerkship brings Johns Hopkins medical students face to face with patients and community doctors