From Opera to Burlesque, Johns Hopkins Shows Off Talent at Spring Tonic
When you think of graduate students, they are often in a white coat, behind the lab bench, diligently punching numbers into a calculator or carefully pipetting the same colorless liquids back and forth. Of course, this is one part of the life of a student, but it's not the whole story.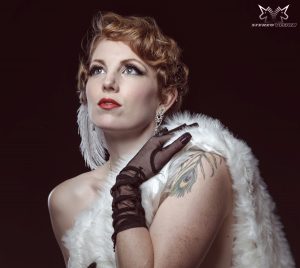 Students came in droves to the Johns Hopkins Bloomberg School of Public Health Student Assembly's Spring Tonic on April 1, 2016. More than 250 people attended the show, saw acts from piano performances to Bollywood dancers to stand-up comedy and enjoyed a multicultural selection of dishes from some of Baltimore's local restaurants.
It is no surprise that the Johns Hopkins community is full of unique talents, but two performers in particular realized their talents could benefit their future careers.
Linda Maguire, a Master of Health Science graduate and employee at Kennedy Krieger Institute, stunned the audience with opera. Starting out with a piece by Mozart, a hush fell over the auditorium as Maguire's vibrato filled the auditorium. After the first song, Maguire took a moment to explain that she was previously a professional singer and was inspired to change career paths after seeing the effect her music could have on Alzheimer's patients.
Her passion for creative expression has helped her to design interventions for clinicians and scientists as music therapy for neurodegenerative diseases, like Parkinson's, and developmental disorders, like autism. She will continue her work as she begins a Ph.D. at George Mason University this fall in health strategic communication. She also sang "You Raise Me Up," which was even more poignant, given her work to bolster the neural network through song and to support those who struggle with neurogenetic diagnoses.
Erin Wingo, a second-year M.S. in public health student, confidently closed the show with a burlesque number. For Wingo, burlesque is "like an old friend," since she has been performing for more than six years. Burlesque is actually what brought her to Johns Hopkins to pursue her degree. Her performances helped her to realize her passion and, like Maguire, inspired her to change career paths. The art is what first helped her realize "that beauty is not one size fits all and that celebration of one's body, of one's expression of sexuality, does not need to be and shouldn't be limited to individuals that fit within one body type, skin color or gender expression. It's a joy and a freedom available to everyone." Wingo's talent is sure to inform and improve her work in sexual and reproductive health at Johns Hopkins and beyond.
These acts and many others left the audience with not only smiles on their faces but a deeper appreciation for the many amazing talents their colleagues possess. The strength of a sprawling community like Johns Hopkins lies in its ability to take advantage of the unique genius of each of its members. Art and science can harmonize, as shown by Maguire and Wingo, to create the best of both worlds.