This past April, you may have noticed a surplus of sparkling lights scattered throughout Baltimore's Inner Harbor. For those who participated, Light City Baltimore provided food, music and fun. This event was so popular, it even attracted people from outside of Baltimore, including residents from Philadelphia and New York City, among other places.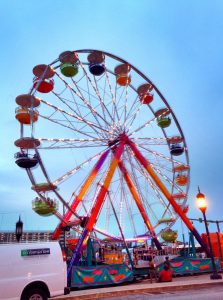 But for those of you who missed it or are just looking for more fun events to celebrate this year, Baltimore has no shortage of upcoming get-togethers. The beginning of summer marks the beginning of festival season in Baltimore. A few of the festivals and parades in Baltimore that are emblematic of Baltimore's unique and charming culture are:
Artscape, July 15–17
America's largest free arts festival, Artscape features over 150 artists from around the country. Taking up Mount Royal Avenue and part of Charles Street, Artscape is a Baltimore staple. Located next to Baltimore's Penn Station, it is a hop, skip and jump away from nearby cities and right in Baltimore's backyard! This year's theme is Space: Explore What's Out There. Performers playing on the Artscape stage this year include Wyclef Jean and The Mighty Mighty Bosstones, among others.
Pride Festival, July 23
Celebrating its 41st year in Baltimore, the Pride festival is a culmination of the Baltimore lesbian, gay, bisexual and transgender community's Pride week. Besides a parade down Charles Street, this event features a large block part on Saturday, July 23.
Hampden Fest, Sept. 17
Taking place close to Johns Hopkins' Homewood campus on the Avenue (36th Avenue, to be exact), this festival showcases some of the best food in Baltimore. Here you will find booths for various restaurants near the festival, including The Food Market, Alchemy and Golden West Cafe. Artists also showcase and sell their artwork, which you may find around local Baltimore stores when the festival isn't going. 
Baltimore Book Festival, Sept. 23–25
While you may think Baltimore's Inner Harbor is constantly filled with tourists, on this weekend in September, it gets filled with books, authors and book clubs. Besides usually featuring a larger-than-life Scrabble board, it offers a great way to add some literature to your collection.
These are just a few of the great festivals Baltimore has to offer. What other festivals would you recommend in the area?
---
Related Content