Guys, it's finally happening. I am going to graduate with my Ph.D. This is 99 percent excellent news, and I am 99 percent thrilled.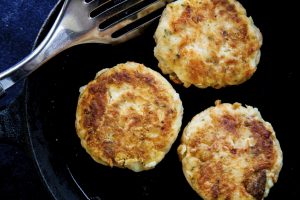 But let's talk about that other 1 percent. It comes from the abrupt realization that in a few short months, I'm going to move away from Baltimore, probably to the other side of the country, possibly forever. Suddenly, I am scrambling to fit in one last trip to all of my favorite spots here before I leave. In honor of Baltimore being named the second-best food city in the U.S. by Zagat, here are some of the spots to grab a bite that I'm going to miss the most.
Baltimore Classics
These are the classics, the Baltimore institutions, the places you have to try just to avoid dealing with the incredulous look on people's faces when they ask, "you've seriously never been to ____?"
Chaps Pit Beef
If you live in Baltimore, I can only assume you've already been to Chaps, so I don't have to tell you how great it is. Chaps gets a shoutout in The Wire, and it still has a dedicated parking spot just for Ray Lewis — how much more Baltimore classic can you get? It's a little out of the way, down Pulaski Highway, so I don't expect you to get lunch there every day, but I do recommend going more than once. It took me a few tries to really optimize my barbeque sauce/horseradish/onion toppings ratio to perfectly complement the pit beef sandwich.
Sip & Bite
This diner is an easy walk from both Fells Point and Canton, so it's a convenient late-night destination for a lot of the Johns Hopkins trainee crowd. They do a great job on all the diner classics here, including but not limited to breakfast and Greek food. If you like hollandaise sauce, the Sip & Bite Chesapeake eggs benedict is the best crabcake for your money in Baltimore.
Faidley's
Remember how I just said the best crabcake for your money is at Sip & Bite? Well, the best crabcake period is at Faidley's in Lexington Market. The only complaint I've ever heard about this one is that it has too much crab and not enough filler. Seriously.
Special Occasions
I'm a graduate student, so I can't afford to spend $15-20 a plate very often, no matter how good the food is. But when that special occasion arrives and I have a reason to splurge, you'll probably find me at one of these spots. 
Woodberry Kitchen
Not only is the food spectacular, but the whole Clipper Mill neighborhood is a great spot. Probably the only place in Baltimore where you can eat like royalty, brew your own beer and learn to blow glass all within a five-minute radius on foot.
The Helmand
I think if I had to pick exactly one place to eat in Baltimore, this Afghan restaurant would be my choice. It's one of those places where your favorite entrée served is whichever one you happen to be eating at the moment you're asked.
Akbar/Darbar
These Indian restaurants share owners, but Akbar is in Mount Vernon, and Darbar is in the Fells Point neighborhood. Feel free to visit whichever is most convenient for you. Akbar is one of two restaurants on this list (the other being Chaps) that was recommended to me unprompted by people who had never even lived in Baltimore when friends and family learned I was moving here.
Hidden Gems
These are the places you may not see on other lists of must-try restaurants in Baltimore, but I promise you're missing out if you don't give them a shot.
Blue Pit BBQ
This is a fairly new restaurant, but if you haven't heard of it yet, you will soon. The pulled pork is probably my favorite, but you can't really go wrong with any of their meats or sides. Blue Pit is also an award-winning bourbon bar with an Old Fashioned of the day and a great outdoor seating area.
Broadway Diner
Spitting distance from I-95, Broadway Diner is the perfect place to meet someone who's just stopping in Baltimore for lunch on the way to Philly or New York. Broadway has probably my favorite French fries ever, and they also sell a giant sandwich called the Pulled Pork B.B.Q. Mac n' Cheese Grilled Cheese for less than $10.
Samos
If you've tried out a few of the restaurants in Baltimore's Greektown, you've probably been to Samos. If you haven't, you should. The pita alone would earn Samos a place on this list, let alone the hummus, souvlaki and gyros. I didn't try Samos until late in my graduate career; do yourself a favor and don't make the same mistake.
You can be sure I'm going to miss all of these restaurants when I leave Baltimore, but honestly this list just scratches the surface. So if I'm missing your favorite Baltimore eatery, feel free to leave a shoutout in the comments section.
---
Related Content
Learn more about activities and community around Charm City.