During the last seven and a half years, President Barack Obama has been a reliable advocate for science and technology. Just recently, the Office of Science and Technology Policy released a report highlighting 100 achievements fostering research and promoting innovation during President Obama's two terms. As the country prepares for a new president to take the reigns in January, it is important that voters understand how the presumptive presidential nominee from each party plans to promote research and technological innovation during his or her presidency.
Clinton: Increasing Access to STEM Fields
Presumptive Democratic presidential nominee Hillary Clinton's science and technology priorities can be found on her campaign's website and in her recently released briefing, "Hillary Clinton's Initiative on Technology and Innovation." A recurring theme in Clinton's plan is the reciprocal relationship between technology and social and economic equality. She wants to equalize access to technology and use technology access to promote equality by increasing the number of public spaces and households connected to high-speed internet, especially in rural areas and communities of color.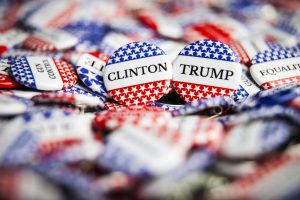 Clinton also plans to increase access to science, technology, engineering and math (STEM) training in schools and at all career stages as a means of creating a more technologically savvy workforce to fill jobs in the tech sector. While initiating or expanding programs to encourage STEM training and entrepreneurship among all Americans, aspects of these programs will give special attention to promoting these activities among currently underrepresented groups, including women and people of color.
Although Clinton's primary focus is on digital technology, she enumerates other priorities in medical research and environmental issues. These include confronting urgent challenges, such as the opioid epidemic and Alzheimer's disease, in addition to slowing climate change and building a clean energy infrastructure. Clinton plans to increase the budgets of the federal research agencies while focusing on technology transfer, which is the process by which research discoveries are brought to market for consumers to use. Clinton will continue programs that set aside portions of federal research budgets to enable such commercialization.
However, technology transfer will have to be balanced with maintaining a robust basic research budget. Funding mechanisms, such as the Small Business Innovation Research and Small Business Technology Transfer programs, which allocate portions of federal research agency budgets to support the growth of small businesses, have recently come under scrutiny because of planned increases in these programs that researchers worry will diminish already limited research dollars.
Trump: A Plan in Progress
Presumptive Republican presidential nominee Donald Trump's science and technology plan is much harder to pin down. Trump's policy positions primarily focus on immigration and economic issues, and do not explicitly include any science, technology or research-oriented goals. He also has not released a briefing similar to Clinton's outlining such priorities.
A previous report points to Trump's personal donations to nonprofits supporting disease-specific medical research as potential indicators of his support of the medical research enterprise while also calling attention to comments on climate change and the National Institutes of Health that some in the research community find worrisome. Before research advocacy groups can evaluate Trump's science and technology agenda, Trump will have to take the initial step of simply laying out specific policy positions.
Neither campaign could be reached for comment on this matter.