When I turned 11, the only thing I wanted for my birthday was a letter from Hogwarts, the magical school from the world of Harry Potter, telling me that I was a wizard. To my dismay, no such letter arrived but little did I know what the future had in store.
Eleven years later, I was admitted to the Johns Hopkins University School of Medicine, which unfortunately isn't Hogwarts — can anything compare? — but is still an extremely magical school. I see quite a few similarities between Hogwarts and Johns Hopkins, beyond the fact that sometimes medicine can seem like magic. Both are highly esteemed, and both require some sort of expensive dress code — are robes cheaper than white coats? But one of the biggest similarities I see is in mentorship.
Similar to the four houses of Hogwarts, each student entering the school of medicine is placed in one of four colleges — Nathans, Sabin, Taussig or Thomas — each named after prestigious Johns Hopkins scientists, technicians and physicians. Each college serves as the student's "home base," a physical location in the Anne and Mike Armstrong Medical Education Building, where four highly decorated lounge areas are partitioned off and filled with couches, ping pong tables, refrigerators and lockers. The college system also serves as a fundamental foundation to the medical school's strong mentorship model. Each college is further split into "molecules" made up of five students and a faculty member. These molecules serve as a space for discussion, learning, growth and, most importantly, mentorship from the faculty member and peers. Furthermore, the same faculty member's previous molecules from years two through four combine to create a macromolecule, with a total of 20 students.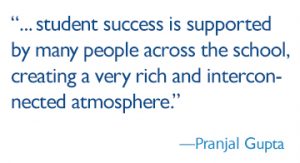 I'm blessed to have been placed in Taussig College and in a wonderful, invaluable molecule. My classmates and I have had numerous vigorous discussions in our molecule meetings and also had supportive one-on-one time with our mentor. My macromolecule has allowed me to meet older students and learn from their experiences. In addition, in Taussig, each first-year student is assigned a second-year "TausSib" who can provide advice and act as a general soundboard for any questions or concerns.
Beyond the Colleges Advisory Program, mentorship is still plentiful. Early in the year, first-year students are assigned to small peer-advising groups outside their molecules. Later, first-years also have an opportunity to sign up for the student preceptor program, in which they are paired with fourth-year students. My student preceptor has been absolutely amazing and has given me early exposure in learning to interview patients in real-life settings at the hospital.
Just like in Harry Potter, learning at Johns Hopkins is almost always supplemented by the communities built by the colleges and peers. Therefore, student success is supported by many people across the school, creating a very rich and interconnected atmosphere. As I turn the corner into my second semester of my first year, I can't help but look ahead and think of ways I can give back to the community as a mentor myself for future incoming students.
---
Related Content