Hopkins Mood Disorders Symposium: Gaining Perspectives and Generating Conversations
A sizeable crowd of over two hundred attendees gathered in Turner Auditorium on April 18, 2017, to hear discussions on mood disorders at the 31st Annual Mood Disorders Research/Education Symposium, sponsored by the Johns Hopkins Mood Disorders Center.
Mood disorders, which encompass major depression, anxiety disorder and bipolar disorder, as well as a spectrum of mood dysregulation conditions, affect up to 20.8 percent of Americans at any given point in their lifetimes (1). According to the World Health Organization, mood disorders as a group are also the leading cause of disability and decreased quality of life among Americans ages 15-44 (2). While the staple of treatment involves talk therapy and pharmacological agents, the field of mood disorders has undergone big changes in recent years, with renewed research in the electrical-circuit-based biology underlying these mental illnesses as well as more options for treatment, such as mindfulness and meditation.
The recent Mood Disorders Research/Education Symposium consisted of dynamic expert speakers from the psychiatry departments of Johns Hopkins and other highly acclaimed research institutions, including the University of Oxford and Georgetown University School of Medicine. Likewise, the topics of the mini lectures were equally diverse, ranging from expositions on ongoing research studies to patient and family spotlights that were reminiscent of the multi-dimensional and patient-oriented interviews, historically an integral part of the way psychiatry is practiced at Johns Hopkins, conducted within the units in the Meyer building.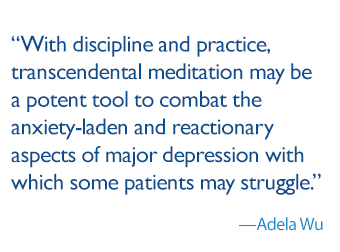 I arrived from work just in time to listen to Dr. Norman Rosenthal, known for describing seasonal affective disorder, discussed the value of transcendental meditation. With discipline and practice, transcendental meditation may be a potent tool to combat the anxiety-laden and reactionary aspects of major depression with which some patients may struggle. Dr. Guy Goodwin delivered a presentation on how smartphones could tap into a new aspect of monitoring and potentially treating psychiatric disorders, such as tracking the mood lability experienced by borderline patients. Technology, such as text messaging to monitor mood and apps for stress management, is becoming an increasingly appealing avenue to transform care for patients with mood disorders.
As a neuroscience and English literature double major from college, I paid particular attention to the talk on female poets and mania by Dr. Kay Jamison, professor of psychiatry at Johns Hopkins and author of several well-known books on her personal experience as well as profiles on artists and thinkers who have struggled with mental illness. I had read and included excerpts from her autobiography, An Unquiet Mind, in my undergraduate thesis on illness narratives, drawn to her earnest descriptions of living and thriving with bipolar disorder. Writing appeared to be a particularly effective and eloquent avenue to communicate her experience with a wide audience. On that spring afternoon at Hopkins, Dr. Jamison's presentation also tied writing and art into a broader discussion about mental health, highlighting quotations by women writers, such as Sylvia Plath and Virginia Woolf, and showcasing the rich and varied lives and talents sufferers from mental illness held. Her lecture encapsulated an underlying theme of the symposium—that patients are more than their psychiatric disorders.
Hopefully soon, and with the aid of symposiums such as the one the Hopkins Mood Disorders Center organizes yearly, patients, family members and doctors will all benefit from strides in understanding mood disorders and their impact on patients. As Dr. Hope Jahren, author of the bestselling memoir Lab Girl, admits during her frank keynote interview at the conclusion of the symposium, "I'm not like this. This [bipolar disorder] isn't me. … [and] empathy makes the wall between me and the world … a lot more permeable."
---
References:
National Institute of Mental Health. Any Mood Disorder Among Adults
National Institute of Health Research Portfolio Online Reporting Tools. Mood Disorders.
---
Related Content