Still half-asleep, I woke up at 4 a.m. to hit the highway for a four-hour drive. I had retired from "moving weight" (selling drugs) to moving words—ones of experience and inspiration. I was headed back to prison. I had a conversation with my mom the night before about me going "back to prison." After her initial gasp, she hit me with the Haitian-mom "umpf," showing her concern and doubt, punctuated by "m ap priye pou ou." I told her I'm praying for me too.
As a formerly incarcerated inmate turned postdoctoral scientist at Johns Hopkins Medicine, I had come full circle—From Prison Cells to PhD—and now back to prison to deliver a motivational speech to inmates on the importance of education after release. Obtaining higher education reduces the rate of going back to prison from roughly 70 percent to nearly zero percent (1).  I could not even begin to explain my feelings. I was excited but torn, eager yet uncertain, happy and sad. It's impossible to capture the emotions. Overall, I was inspired and honored to have the opportunity.
When I entered the prison gates and heard the loud clang of the solid iron door slamming closed behind me, I knew there was no turning back. I was politely greeted by the warden, two assistant wardens and three correctional officers. The warden was an attractive young white lady (maybe 40 years old), wearing a very professional navy suit. She was not what I expected the warden of one of the largest high-security prisons in Illinois to look like. In all my years locked up, I had never met a warden. About 70 percent of prisoners in the United States are people of color. As I walked the prison yard, a black man in civilian clothes with two older white men in suits, three white men in uniform, and the head of the prison, all eyes were on me.
I arrived at the activity center and was escorted through more locked doors and past more inquisitive faces. I saw a packed room of roughly 200 inmates. I spoke for 2 straight hours and had more attentive faces than any college auditorium lecture I had ever delivered. The room was full of tattooed tears and bodies fully covered in art. It was a room bursting with potential, of listeners deeply eager for a second chance. It was truly inspirational.
I took a tour of the grounds. The air in the yard felt like prison, despite being the same rural country air separated by 20 feet of triple-barbed wire chain fences. There are about 1900 inmates and 10 housing units or dorms. Unlike most visitors, I was permitted to walk through one of the housing units. I saw the cells. I saw the faces I remembered like yesterday. I visited the segregation wing and even hung out in the wardens' office talking Illinois politics. The entire day was surreal.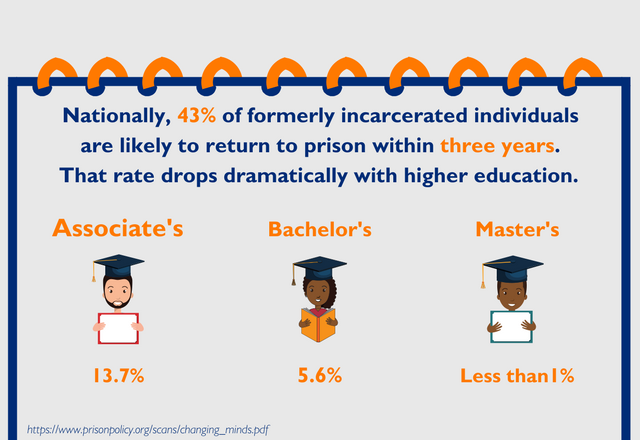 Even as I have progressed past the prison cell to the lab, my home state of Missouri stated that they still consider me a non-rehabilitated criminal—a difference in politics I guess. Through visits like these, I hope to shine a light on the powerful role of education. Nationally, 43 percent of formerly incarcerated individuals are likely to return to prison within three years of release (65 to 70 percent within 5 years). However, the recidivism rate drops dramatically with access to higher education (1). In fact, the rates drop to 14 percent for those who achieve an associate's degree, 6 percent for those who get a bachelor's degree and less than 1 percent for those who get a master's degree. My goal is to inspire others with similar backgrounds as myself to excel beyond what society and life circumstances have set to be the norm.
Thank you to Correctional Officer Justin Bryant and Warden Stephanie Dorethy for the invitation. I must also thank my Hopkins mentor, Dr. Sheng Wu, for respecting my mission. I also want to express my love to my wife and family for supporting me on this mission. It has not been easy to share this part of me.
---
Learn more about higher education after prison and its effect on recidivism rates: