In 1796, an English scientist by the name of Edward Jenner expounded on the observation that milkmaids were generally immune to smallpox. He inoculated people with pus from cowpox blisters from the hands of milkmaids as a method to prevent smallpox, and the concept of vaccination was born. Many radical advances in medicine happen in just the same way — through astute observation and experimentation.
Modern general anesthesia was discovered through a similar process. In 1846, after mounting evidence in the scientific and medical community, young Boston dentist William Morton teamed up with esteemed surgeon John Collins Warren to perform the first successful surgery under general anesthesia using inhaled diethyl ether. Yet unlike the smallpox vaccine, which has a clearly established molecular mechanism of action, we still know strikingly little about how general anesthesia actually exerts its miraculous effects of "reversible unconsciousness." Through observation and experience, we know anesthesia works. Every day it makes thousands of extraordinary surgeries across the world possible. But how?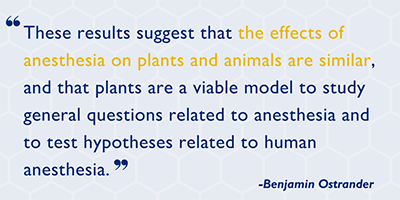 Exciting new research could have dramatic effects on our understanding of general anesthesia. Although this research involves studying how living things respond to anesthesia, it does not involve humans or other common organisms such as zebrafish or nematodes. Rather, it involves plants.
Last year, Yokawa et al. published a fascinating study in Annals of Botany on the effects of anesthetics on plant movements. They administered diethyl ether, the same anesthetic used by Morton in 1846, to Venus fly traps and pea tendrils and found that plants "lost their autonomous and touch-induced movements after exposure to anesthetics." The drugs also impeded other plant processes. Seeds stayed dormant. Vesicles, the equivalent of postmen on the cellular superhighway used to transport and recycle materials, stopped moving too. These results suggest that the effects of anesthesia on plants and animals are similar, and that plants are a viable model to study general questions related to anesthesia and to test hypotheses related to human anesthesia.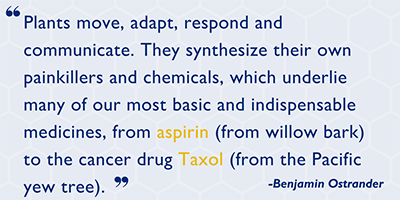 Yet the implications of this study reach far beyond providing a new way to test basic science hypotheses. As Joanna Klein put it in her New York Times article on this subject, "Plants don't get enough credit." Plants move, adapt, respond and communicate. They synthesize their own painkillers and chemicals, which underlie many of our most basic and indispensable medicines, from aspirin (from willow bark) to the cancer drug Taxol (from the Pacific yew tree). When doused in anesthetic gas, they freeze, just like we do. When the drugs wear off, electrical activity and movement returns. If this were a person waking up from surgery, we might say, "Oh look, her consciousness has returned." Does that mean plants are conscious, too? Or, at the very least, that they are much more alive than we give them credit for?
Perhaps plants will help us better understand the mystery of anesthesia, which has stumped scientists for over 150 years. And maybe they will help us with an even bigger, more philosophical question. What is consciousness, and how is it created?
References
Robinson, Daniel H., and Alexander H. Toledo. "Historical development of modern anesthesia." Journal of Investigative Surgery 25.3 (2012): 141-149.
---
Related Content
What does the Department of Anesthesiology and Critical Care Medicine at The Johns Hopkins University study? Find out more.