The hospital turns worlds upside down, for both patients and for care providers alike. Luckily, I haven't yet been a patient in a hospital, but I can only imagine how jarring it must be for patients to leave their daily routines and enter the bustling, complex machinery of the hospital, largely for circumstances out of their control. In a similar fashion, for a rotating medical student, leaving the comfort of the lecture halls and classrooms and stepping onto the wards means entering what is truly a different world. Although I came equipped with book knowledge from two years of preclinical education, nothing prepared me for my first few weeks rotating in an actual service.
Despite the difficult transition, I've had an incredible experience so far. My first rotation is women's health, and I have a good mix of ambulatory medicine, inpatient gynecology (mostly surgeries), labor and delivery, and pathology on the schedule. In just three weeks, I feel like I've learned more about medicine than in three months of preclinical learning.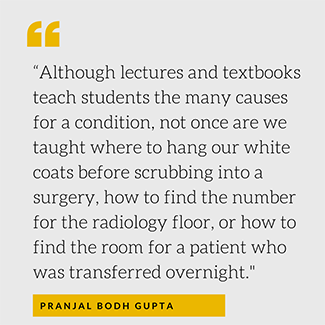 A colloquial saying that medicine is "like drinking from a fire hose" is true throughout medical school, but no more so than on the wards, and for reasons one would least expect. Although the lecture hall and textbooks might teach students the many causes for abnormal uterine bleeding, not once are we taught where to hang our white coats before scrubbing into a surgery, how to call the operator in a hospital to find the number for the radiology floor to determine when a patient is having a CT scan, or how to find the room for a patient who was transferred overnight. We might be taught why the levels of follicle-stimulating hormone increase in women after menopause, but nowhere are we taught how to request an interpreter to tell a non-English-speaking patient about their hormone levels.
In addition to rapidly learning how to manage and treat the many pathologies in women's health, my clinical rotations have largely involved learning the nuances of being in the hospital and contributing to the medical team. Acquiring the practical skills to order imaging, use the internal paging system and help set up the operating room before a case have proved to be the most challenging, yet also the most useful so far.
Being a rotating medical student can be intimidating and overwhelming, and the learning curve is unavoidably steep. However, the experience truly is second to none. Not many people have the privilege of participating in the care of fellow humans and seeing the human body in its brightest and darkest moments, from the inside and out. Learning medicine gives me a high that no other field could reproduce, and the past few weeks have just reinforced this. I can't wait to see what the rest of my rotations have in store.
---
Related Content