The Organization of Student Representatives: A Student Government of Medical Education
The Association of American Medical Colleges (AAMC) is well known to premedical students. Founded in 1876, the AAMC — comprised of all 151 accredited U.S. medical schools and 17 Canadian medical schools — is a not-for-profit organization that coordinates medical school applications, the Medical College Admission Test and the Electronic Residency Application Service, which is the online application system for fourth-year medical students to match to a postgraduate residency program. Also, the AAMC holds several national conferences every year, hosting administrators from medical schools across the country to discuss current issues and relevant policies and initiatives in medical education. A lesser known arm of the AAMC is the Organization of Student Representatives (OSR).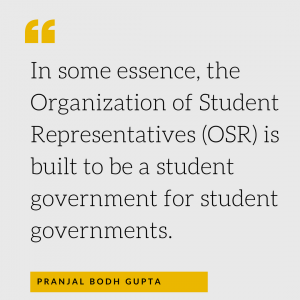 The OSR, a subset of the AAMC, is made up of medical students representing all AAMC schools. The OSR gives medical students a voice in the AAMC and allows them to play a role in the decision making regarding medical education policy, preserving student rights and delineating professional responsibilities. Usually, OSR members are elected at each school, and they often double as a school's student government. At Johns Hopkins, OSR members are chosen after having been elected to the Medical Student Senate and are then expected to travel to national OSR conferences as representatives of the school. Additionally, students can join an OSR committee without being elected and can participate in the implementation of OSR initiatives and programming.
I have had the pleasure of representing Johns Hopkins as an OSR member for the past year and a half, and have attended national AAMC conferences in Boston and Orlando, Florida, to meet with other OSR members. Furthermore, I was recently selected by the OSR administrative board as one of 18 medical students to serve as OSR liaisons, representing the OSR as a whole to the AAMC Group on Student Affairs' Committee on Student Records (COSR). This committee is comprised of medical school registrars who each represent a specific region of the country and discuss policies, ideas and laws related to student academic records, addressing topics such as developing new online tools to make applying to away rotations at other schools easier for medical students.
In some essence, the OSR is built to be a student government for student governments. At the conferences, I've shared and learned of updates from various medical schools on subjects including health and mental wellness programming, diversity and inclusion initiatives, and help for students applying to certain specialties with certain requirements. Furthermore, I learned about various initiatives COSR is implementing and was able to offer student input on topics such as visiting-student services and privacy concerns about student data. These conferences have been quite special — I had the chance to have dinner with the chief academic officer of the AAMC and share my concerns about rising student debt, and I was able to participate in an energetic discussion with a coordinator of AAMC Standardized Video Interview, an up and coming tool for residency directors to evaluate candidates. Having my voice heard and representing hundreds of medical students at the highest level of medical education is an incredible honor and such an enjoyable experience. I look forward to learning much more about medical education policy and meeting more fellow students from other medical schools as I continue my role as an OSR member and liaison.
---
Related Content