The State of Johns Hopkins Medicine Address: What Is It?
I have been part of the Johns Hopkins community for the last five years — first as a laboratory technician and now as a graduate student — and every fall I have gotten an email from Dean Paul Rothman inviting me to attend the State of Johns Hopkins Medicine (JHM) address. After years of good intentions and ignored Google calendar notifications, I finally attended the event.
Walking into Turner Auditorium I had one question: What is the address? In short, it is an opportunity for Dean Rothman to provide an update on JHM's progress on the current strategic priorities laid out every five years, and to share some of the many accomplishments JHM has had in the past year. In addition, this year Dean Rothman released the 2019–2023 strategic plan, which consists of six pillars:
1. Push the boundaries of science and education: Dean Rothman reaffirmed the university's commitment to support and provide funding for basic science research. He also shared that The Johns Hopkins University continues to earn top rankings for many of its programs according to U.S. News and World Report.
2. Work like one organization: Johns Hopkins has a large number of diverse programs and several different campuses. In the past, the institution has functioned as a system of discrete parts, but in recent years the goal has been to consolidate Johns Hopkins into a more cohesive whole, which will make JHM more efficient and improve patient care.
3. Support the well-being of our people and our community: Hopkins is constantly working to improve and strengthen its relationship with the Greater Baltimore community. A key arm of this goal is HopkinsLocal, which is a major initiative started at JHM in 2015 that aims to "Build, Hire and Buy" locally.
4. Improve the quality and affordability of health care: Increasing health care costs for patients as well as health care providers is a significant problem in America, and it is an issue JHM is committed to fighting.
5. Make Johns Hopkins Medicine easy: This is the broadest of the six pillars and, in part, encompasses all the other goals Dean Rothman laid out to make JHM more affordable, cohesive and successful. JHM can be intimidating and overwhelming for patients, employees and students, and these issues will be addressed by this pillar.
6. Aim for precision in everything we do: This final goal refers to Johns Hopkins' aim to strive for and improve personalized, precision medicine. In this era of genome sequencing, it is important to acknowledge that no two patients are the same, and treating patients as individuals will likely improve health care outcomes.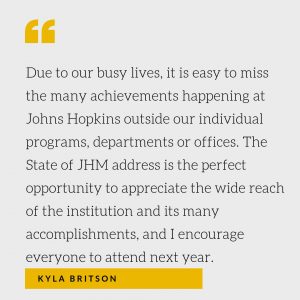 These goals are a clear continuation of the six pillars laid out in the 2014–2018 strategic plan. JHM has accomplished a great deal in these six areas, and Dean Rothman highlighted a small selection of these achievements. One area of interest to me was his discourse on the importance of supporting basic science research. He shared recent findings from the laboratories of Hal Dietz, Valina Dawson and Andy Ewald that shed light on areas of basic science, but also had promising translational applications. Dean Rothman also aroused enthusiasm about an innovative new graduate program called XD Bio being piloted by Johns Hopkins to facilitate interdisciplinary research training.
Of course, as a graduate student, I typically hear about the great science and research news coming out of Johns Hopkins. However, I was less familiar with some of the more campuswide and medicine-focused achievements shared by Dean Rothman. For instance, JHM was awarded its fourth Magnet recognition for nursing excellence, which shows Johns Hopkins' continued dedication to providing the best patient care. Another fantastic achievement is the opening of The Sheikh Khalifa Stroke Institute this year. The mission of this institute is to improve stroke diagnosis and treatment using the latest scientific research.
JHM has also been working tirelessly to improve its facilities, and will soon begin the Children's Medical and Surgical Center Brady Tower development, which will completely change the look of the East Baltimore campus and add new research space dedicated to advancing precision medicine. Dean Rothman could have spoken for an entire day about everything that has happened at Johns Hopkins this past year, and the achievements I've mentioned above barely scrape the surface.
Due to our busy lives, it is easy to miss the many achievements happening at Johns Hopkins outside our individual programs, departments or offices. The State of JHM address is the perfect opportunity to appreciate the wide reach of the institution and its many accomplishments, and I encourage everyone to attend next year.
---
Related content: