During my last outpatient pediatrics clinic in residency, a patient and his mother reminded me that the therapeutic relationship can transcend language. I had been taking care of a young boy, whom I'll refer to as "A," since the beginning of his life. He had developmental delays and several other medical problems. His mother was the subject of domestic violence and consistently screened positive for food insecurity. Although she wanted to leave her abusive partner, she had no time to work, so for reasons of financial dependence, she stayed. She came to every one of her son's appointments with a list of questions scratched on a scrap of paper. Because A's mom was proactive, engaged, and had many questions about her medically complex child, we'd meet every few months for a checkup. Our appointments always ran long because A's mom came with an agenda of questions and concerns to discuss in addition to my own. The visits were made even longer because we spoke different languages. She was Mexican American and spoke no English. I speak minimal Spanish, so we communicated through a phone interpreter.
In many communities around the country, medical providers strive to adapt to the continually expanding patient diversity in order to provide excellent care to all of our patients. This often means using language services. For those of us who do not speak Spanish, or dozens of other languages, we rely on the use of phone interpreters who, while effective, can detract from the relationship we aim to forge with patients. Although research has indicated that the use of an interpreter does not lengthen the visit by an appreciable amount, waiting on hold for 10 or more minutes as an interpreter is located sometimes felt like a burden. What concerned me even more was how impersonal it felt to use a phone interpreter to talk to an Arabic speaker about her mother's history of intimate partner violence, tell a French patient he has a supraclavicular mass that may be oncologic or regretfully inform a family that their son has died.
As I neared the end of residency, I said goodbye to my patient and explained that I was moving on to the fellowship portion of my training. When I said goodbye to A's Mom, it was less emotional than I expected and felt almost anticlimactic. I had known A his entire life and felt a special connection to him and his mother. When she simply said goodbye and left, I was crestfallen by the abrupt parting. An hour later, however, I was called to the front of the office where she was waiting for me, flowers in hand. A, his mother and a young niece they were babysitting had walked through the busy streets and bought me roses with money they could have used on food. I have never felt more unworthy of a gift. As we stood together in the waiting room, I understood that although we spoke different languages, our actions had imparted a mutual sentiment of closeness and gratitude.
How can we overcome the language barriers that challenge communication with our patients and their families? Moreover, in the current climate of migrant family separation, how do we remind our patients that they can feel safe in the medical home, safe in our care, despite not being native-born citizens? Perhaps we do not have much to do besides providing the same compassionate, invested care that we provide to all patients. Maybe it's not that words fail when we use interpretation, but rather that the immense feelings patients and families experience while in our care can surpass words — things like hope, fear, anger and gratitude. I don't mean to say that words are not critically important, as they absolutely are. I mean only to affirm that the compassion we relay through our interactions can transcend spoken word. Although to me, A's appointments felt cumbersome and protracted, they were still very appreciated by A's mother, who used a gesture to express her thanks.
Upon saying my final goodbyes to A's mother, I was at a loss for words — both in Spanish and in English. What could I say to thank her for giving me such a special gift, and more importantly for being a tireless advocate for her son despite facing significant obstacles? She, similarly, didn't have to say anything. Such a big gesture was enough to show her appreciation. By nature of the intimacy of our profession, the perceived hurdles of language barriers can be transcended. Sometimes just a handshake, a hug, a smile or a few extra minutes of a busy day can mean a lot to a patient. It is through the resiliency of our patients and their families that we may be reminded of the humility of our profession and the vast privilege and honor it is to serve them. Estamos agradecidos.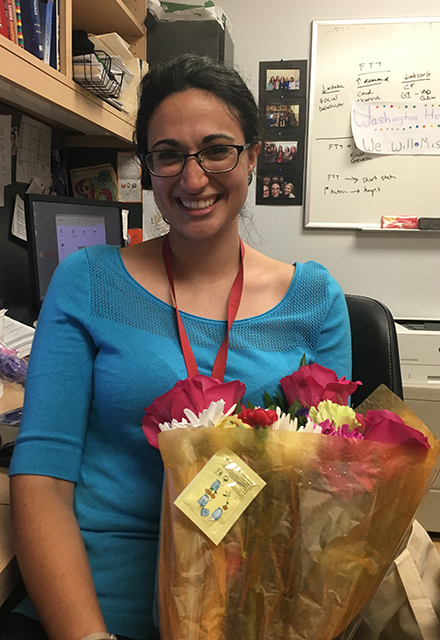 ---
Related Content
Want to read more from the Johns Hopkins School of Medicine? Subscribe to the Biomedical Odyssey blog and receive new posts directly in your inbox.