Pharmacology Student Initiative: Building a Better Graduate Community
The academic motto of "publish or perish" can create an isolationist graduate school environment. It can be easy to convince ourselves that our impact is tied solely to our experiments and lose sight of the fact that our time at Johns Hopkins is an opportunity to participate in an intellectual community built by both faculty and students.
This sense of community is not something that happens naturally. According to James Stivers, Ph.D., professor of pharmacology and molecular sciences, this is rooted in the fact that "inertia is the default condition in the absence of a force. Everyone is busy, and the current shortfalls in research funding put an additional stress on everyone that can slowly erode the graduate environment almost imperceptibly."
A recent force applied to improve the sense of community in Stivers' department came from a group of graduate students who call themselves the Pharmacology Student Initiative (PSI). PSI is comprised of a council of 10 students: Amer Al-khouja, Nina Chu, Emmanuel Datan, Dominique Figueroa, Carley Heck, Sam Henager, Julie Lade, Alyssa Martin, Kristen Meyer and Brian Woolums. Their mission: to foster professional student-faculty relationships and encourage student involvement within the department.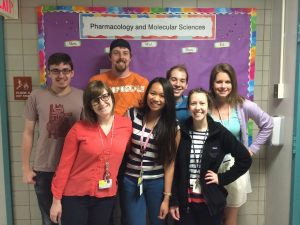 When asked what he hoped to accomplish through PSI, Henager expressed a desire to eliminate the trend that students only get to know their adviser and their graduating class. "We don't want the cohesiveness of the department to be based on what graduate year you are," Henager says. "We want to provide opportunities to really build a community."
On April 10, PSI held its first monthly social. Faculty and students mingled over food and drinks, and the council announced future events, one of which will feature a creative way to get faculty and students talking. Every month, two faculty members will eat their lunch in the department's main conference room, and students are welcome to join them for open discussion in a casual setting. Caren Meyers, Ph.D., an associate professor in the department, participated in the first brown bag lunch on April 22, and was thrilled that students used the opportunity to learn more about her career path and discuss their own career concerns.
"The lunch was relaxed and fun," Meyers says. "I could have easily stayed another hour and am really looking forward to participating in more of these."
PSI encourages pharmacology graduate students to take an active role in helping the faculty plan community events like the student recruitment weekend and the department's annual retreat. Council member Figueroa expressed that a major goal of PSI is to help students "take ownership and responsibility for what goes on in their department instead of being a passive member."
With two successful events behind them, PSI has already begun to change the working environment of their department for the better. Consensus among both faculty and students is a hope that PSI will serve as a mechanism by which students can catalyze change and play an active role in improving the Johns Hopkins graduate experience.