Want to read more from the Johns Hopkins School of Medicine? Subscribe to the Biomedical Odyssey blog and receive new posts directly in your inbox.
Of the greatest miracles performed by Christ was his healing of lepers, the blind and the deaf. Gregor Mendel, a monk, was the father of modern genetics. Christian missionaries like Mother Teresa saved thousands of people in the name of God. The Christian faith and the art of healing have been connected for centuries, and Christianity continues to strongly influence many medical providers today.
A recent conference at Johns Hopkins, the Symposium on Christian Faith, Reason, and Vocation, brought to light many of the ways religion and medicine are intertwined in the lives of modern medical professionals. More specifically, the symposium hosted a panel on faith in medicine featuring providers from around Johns Hopkins. It was moderated by Stephanie Wang, a fourth-year medical student at Johns Hopkins.
At the symposium, providers discussed the ways in which faith was expressed in the workplace. From praying silently in the workplace to discussing faith-based topics with patients, providers covered the spectrum regarding religion in the workplace. David Madder, a primary care provider at Johns Hopkins, discussed how his faith encouraged him to view all people as made in the image of God and how that encouraged his treatment of his patients. Danielle Patterson, a histotechnologist, talked about how the "pathology lab is very open about accepting of you and your religion," and how prayer with a few of her colleagues in the pathology lab was a regular part of her morning routine prior to heading to work.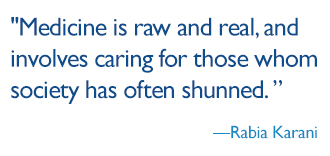 For most providers, faith also played a pivotal in the selection of health care as a career. The importance of serving others is a common theme among major religions, and Christianity is full of the deeds of those who chose to help others. According to Nancy Schoenborn, a geriatrician at Johns Hopkins, she sees medicine as a "calling that I am called to serve, and that is why I go the extra mile to do that extra stuff [for my patients]." Another provider, Angel Byrd, a fellow in the Department of Dermatology, discussed how her desire to go into medicine came from witnessing her mother's career as a social worker and seeing the impact her mother had on the mental health of her clients. Byrd eventually developed an interest in serving those who needed to be cared for and "asked God to help me unfold the path that is right for me every step of the way."
Faith also serves as a day-to-day guide for many providers and is pervasive in every aspect of their life. Along with guiding some providers on patient management, faith also serves as a sort of solace. Medicine is raw and real, and it involves caring for those whom society has often shunned. Medicine also lends itself to continuous failure to improve the health of patients and involves being physically active for long hours. According to Schoenborn, "There's a lot we can't do in medicine, and there's a lot we don't know in science, and in those moments, my faith is very important to me to remember that I don't share that burden alone." Madder discussed the importance of drawing from within oneself the love of Christ and the importance of spreading this love in the workplace.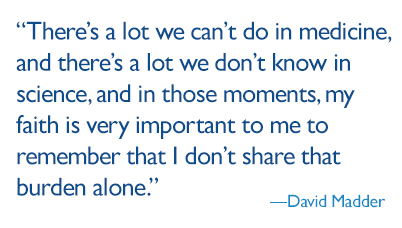 The symposium was ultimately a small snapshot of the ways in which Christianity and modern medicine engage with each other. The art of healing is complex and very human, and in such a human enterprise, it is expected for faith to play at least some role in the lives of both practitioners and patients. Schoenborn beautifully summarizes what the Christian faith means to many health care providers: "There are tough times in medicine, but there is also incredible joy and incredible purpose. It is a privilege to be made by God in a certain way and to have those gifts by God to be able to serve his people, mirroring that Jesus was a healer and that we are following in his footsteps."
---
About this series:
Although medicine is often seen as a field that is distinct from religion, religious beliefs have a significant impact on the way physicians and medical students approach their training, interactions with patients, and understandings of disease and death. Biomedical Odyssey bloggers Rabia Karani and Stephanie Zuo have created a short blog series on faith and medicine to give you a glimpse into the worlds of Johns Hopkins students who have been influenced strongly by and/or are actively practicing their faiths. 
We hope that you come away with a deeper understanding of the profound impact and immense strength that arises when peoples of faith seek to do good work in the medical field with all their hearts, minds and souls.
---
Related Content