During graduate school, it can be easy to get lost among the tomes of information that we all must memorize in time for our exams. This background knowledge helps fuel our research and lets us know what topics have already been explored so that we have an idea of the paths to take in our own thesis research. But educators at the Johns Hopkins Bloomberg School of Public Health assert that memorization alone does not a scientist make — above all, students must be critical, creative thinkers who are honest and responsible with data. In order to train scientists as critical thinkers, the R3 Graduate Science Initiative was recently created in the Department of Molecular Microbiology and Immunology (MMI), led by director Gundula Bosch, Ph.D. In order to better train graduate students to understand their work and create a community of responsible scientists, the program centers on the following.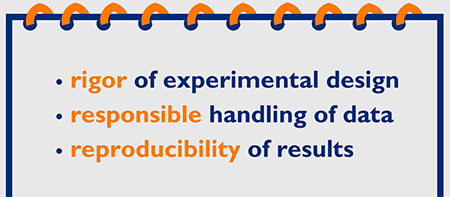 Based on her experiences as a Ph.D. student, Bosch is familiar with the trials of the traditional program structure — the sometimes cyclical pattern of experiments that fail, and the stimulating success of an assay that pushes us forward. More recently, Bosch's training as an educator showed her the importance of critical thinking, a skill she realized is rarely formally taught. Students take countless courses and exams that teach them the steps of autophagy, the progression of cancer, antimicrobial resistance and many other detailed topics that fill our minds to the brim with scientific results and history. Bosch asserts that it is often through hindsight that students critically think about experiments, which leads to wasted time and frustration on both the student's and principal investigator's part. She asserts that "every human being is a critical thinker," and we need to better access and promote this skill in Ph.D. programs. Bosch, together with department chair Arturo Casadevall, M.D., sought to bridge this gap and developed the R3 program as a branch of MMI.
The R3 program is now awaiting accreditation, and has already made strides in educating students across several departments. Bosch eschews the traditional exam-based model of classes for those with built-in assessments. These may come in the form of class presentations, or dealing with real world patient data that relates to a research project on which students are working. In other courses, students focus on scientific error and nonreproducible results — not to emphasize failure, but to find ways to improve the scientific field. Incoming students will be able to choose from the traditional track, while taking some R3 classes or an entirely R3-centered program. Those in the R3 track may still take other classes at the school of public health, but will be able to tailor them to their interests.
Bosch emphasizes that the goal is to "empower scientists to be part of the solution," so that we may advance science and its practice. So far, Bosch and Casadevall have created five courses in which students can enroll. A recent article in Nature by Bosch details their successes with these classes, demonstrating that teaching critical thinking is possible and beneficial to a variety of students. Ph.D.
Happily, Bosch finds her email inbox constantly full with messages from professors from other schools who want to establish such a program. For professors or students interested in creating their own R3 program, Bosch suggests a modular approach. Modules are available online that are shorter, workshop-type programs focusing on individual elements of the R3 program. These online modules are tailored to encourage discussion among the students, rather than simply listening to online lectures. This establishes a community of critical thinkers who can have candid discussions about all elements of the program. These modules could be easily implemented in a university or industry setting. By working through these modules, Bosch asserts that the benefits will be readily recognized, and further development of a program would be enabled. She is now working on a DIY workbook to be published for anyone interested in developing a similar program. These resources further expand the community of critical thinkers that Bosch hopes will improve science for years to come.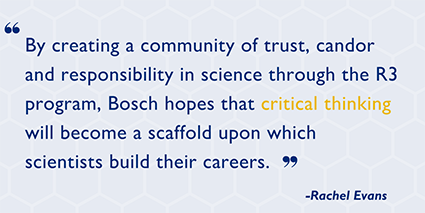 Anyone who talks with Bosch about this program immediately recognizes her passion for it. Early in our discussion she told me, "This is the coolest thing I have ever done." She has already begun to involve biostatisticians in this program, bringing real world examples for students to examine and better understand why certain statistical analyses are better than others. The epidemiology department is also joining in by giving insights on how to responsibly filter qualitative data to discern what information is truly useful. By creating a community of trust, candor and responsibility in science through the R3 program, Bosch hopes that critical thinking will become a scaffold upon which scientists build their careers. This will not only help us grow individually as scientists but will also strengthen our fields for years to come.
Come join us! We provide a forum for critical thinking across the science disciplines. R3 courses are designed for all students in the health & life sciences, technology & engineering!
---
Related Content