On March 16, the Johns Hopkins Department of Medicine and Whiting School of Engineering held a research retreat titled "Re-Engineering Medical Discovery." A number of students, researchers and clinical faculty attended to learn about the exciting innovations currently happening at the intersection of these fields.
The day started with opening remarks from Mark Anderson, director of the Department of Medicine, and T.E. "Ed" Schlesinger, dean of the school of engineering.
A keynote speech followed by Robert S. Langer, a renowned scientist who is the David H. Koch Institute Professor at MIT. Dr. Langer is one of only 11 professionals awarded this designation, which is the highest honor an MIT faculty member can achieve. Dr. Koch's research focuses on the intersection of cancer medicine and materials science/chemical engineering, and thus he was well-equipped to address a body of leading researchers in medicine and engineering.
Dr. Langer has written over 1,250 articles, and owns nearly 1,050 patents that have been licensed or sublicensed to over 250 pharmaceutical, chemical, biotechnology and medical device companies. He is the most cited engineer in history, and was a member of the U.S. Food and Drug Administration's Science Board, the highest advisory board for this governmental agency, from 1995 to 2002, and served as its chairman from 1999 to 2002. He is a co-recipient of the United States National Medal of Science (2006) and the United States National Medal of Technology and Innovation (2011), among over 220 other prestigious awards.
Dr. Langer spoke about resilience and perseverance, telling his audience, "My first nine grants were rejected." Dr. Langer is the first to admit that his journey to success has been no breeze. Like any other student, he experienced trials and tribulations along the way, and failure was an essential component of later success. He also spoke about the exciting future breakthroughs in store for both fields. He said, "This is the tip of the iceberg," and spoke of examples such as the concept of using tissue engineering for treating maladies such as hearing loss and organ failure.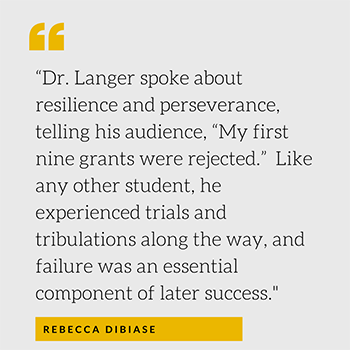 Throughout the research retreat, as an interesting complement to the focus on science and technology, there was an exhibit about art in medicine, featuring examples such as medical anatomy illustrations and innovative ways of visual teaching. Corinne Sandone, interim director of the Department of Art as Applied to Medicine and director of the Graduate Program in Medical and Biological Illustration, gave a talk about this important and fascinating aspect of medical education. The Department of Art as Applied to Medicine has existed at Johns Hopkins for over 100 years, and consists of highly talented students and professionals who have a knack both for scientific knowledge and artistic development, and have embraced the reconciliation of these two seemingly starkly different fields.
After two poster sessions showcasing the accomplishments of many students and researchers, the day culminated with presentation of a number of mentoring, research and engineering awards, recognizing a variety of students and faculty who have excelled and proved to be leaders in their respective fields.
Ethan Nyberg (current Ph.D. candidate) and Shannon Wongvibulsin (current M.D./Ph.D. candidate) were two of the many students who attended the conference and presented their research.
Nyberg presented his innovative work on developing 3D-printed bone replacements and testing different stem cells for potential use in tissue regeneration in joint replacements. His ultimate goal after graduation is to work in a regulatory affairs position, perhaps for the FDA or another similar organization.
Wongvibulsin presented on the development of machine learning algorithms for survival, longitudinal and multivariate data analysis, with a specific focus on the prediction of sudden cardiac arrest. She plans to work as a physician-scientist, and hopes to improve affordable patient care and outcomes by developing engineering tools translatable to clinical applications. Her career aspirations involve working in preventive cardiology and leading a computational research group to design novel algorithms that aid in medical decision-making and advancing engineering and medical care.
Coming from a less clinical background, Nyberg says that he found it fascinating to view research posters from the "medical side," and compare these to the biomedical engineering presentation he has previously given and attended. He also found the anecdotes from Langer's keynote address about the road to his career particularly inspirational.
Wongvibulsin corroborated the stimulating energy at the conference. She shares, "I particularly enjoyed the opportunity to interact with researchers in various areas who were all focused on discovering to advance medicine. I found the sense of community and discussions about collaboration most inspiring."
The day was an overall success, and left participants with inspiration to push the boundaries and identify new field intersections for development and innovation.
---
Related Content