This June was Baltimore Pride, a tradition dating back to 1975 that celebrates the LGBTQ+ community in Baltimore. Over 200 members of the Johns Hopkins community participated in the Pride parade on June 16, a highlight of Pride weekend that sees organizations from across Baltimore and Maryland celebrating LGBTQ+ life (see the Hub write-up).
I first walked with Johns Hopkins in the Baltimore Pride parade in 2016, after my first year as a Ph.D. student here. I was thrilled to see that the university participated in the most visible event supporting the LGBTQ+ community in Baltimore. As a gay Ph.D. student, it is very encouraging to me to see that the university is active in the LGBTQ+ community, especially at a time when young gay, bisexual and queer men are leaving science. This year, I had the opportunity to talk to parade organizers and participants to learn about the history of the event and the experiences of marchers.
Demere Woolway, director of LGBTQ Life at Johns Hopkins, first got involved in the parade in 2015. Previously, only a small contingent from The Network at Johns Hopkins Medicine had participated, but Demere helped transform the event into a cross-campus effort. She explained, "Each year we have grown in terms of the number of people involved, the different parts of Hopkins that are represented and our overall visibility." This year, a new route for the parade helped Johns Hopkins get even more involved: "It was great to have the parade march right through the Homewood campus, which meant we could have our kickoff at the LGBTQ Life office." The Johns Hopkins kickoff is an element she hopes to expand in future years.
The increased involvement across Johns Hopkins has an added benefit of fostering community within the university. Demere added, "I think it's really important for those of us who are LGBTQ and allies to be able to see each other, know each other and come together in celebration."
One fixture of the Hopkins Pride parade group is the rainbow scrub contingent. Each year, a group of Johns Hopkins affiliates dresses up in colorful scrubs and walks in rainbow order. Alex Robinson, who worked with Demere and Greg Rex to reboot Johns Hopkins' Pride involvement in 2015 and came up with the idea for the scrubs, described, "I wanted a symbol that would be easily recognizable as Hopkins to the Baltimore community." The scrubs are now a highlight of the event.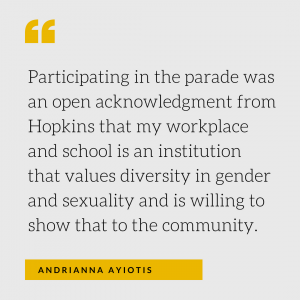 Andrianna Ayiotis, a Ph.D. student in biomedical engineering and co-chair of the Gertrude Stein Society at Johns Hopkins, was one of the individuals wearing rainbow scrubs in the parade this year. Like me, she finds Johns Hopkins' involvement in the Pride parade encouraging: "Participating in the parade was an open acknowledgment from Hopkins that my workplace and school is an institution that values diversity in gender and sexuality and is willing to show that to the community."
The relationship between Johns Hopkins and the broader community is something that Andrianna notes makes Johns Hopkins' involvement in the parade particularly important. "Hopkins is a huge health provider in Maryland and an entity on the forefront of medical care worldwide," she says. "Its LGBTQ+ support and medical care practices can become a standard in other parts of the country and world."
The parade is also a time for members of the Johns Hopkins community to interact with the Baltimore community. Andrianna described a particularly memorable moment during the march: "A group of young girls chanted 'Stop gentrifying Baltimore' at our contingency, which definitely added some perspective to my Pride experience. I think it's important to remember that even though we take this time to celebrate the victories over some of the struggles the queer community faces, we still have more issues to care about and fight for."
---
Related Content