The Great Baltimore Ice Cream Crawl: Living in the Golden Age of Frozen Dairy
Nothing spells summer in Baltimore like the smell of hot asphalt, the sulfurous haze of backyard fireworks and the sweet siren's call of a faraway ice cream truck.
But if the weather's heating up and you're feeling down, take a day to get outside, explore the city and experience its thriving frozen dairy dessert scene with this 10-stop, 3 1/2-mile ice cream crawl.
It's the perfect chance to try out some weird flavors and support local businesses while discovering your new favorite ice cream shop. So grab some friends, remember to hydrate and enjoy the very best of Charm City's ice cream, sorbet and gelato!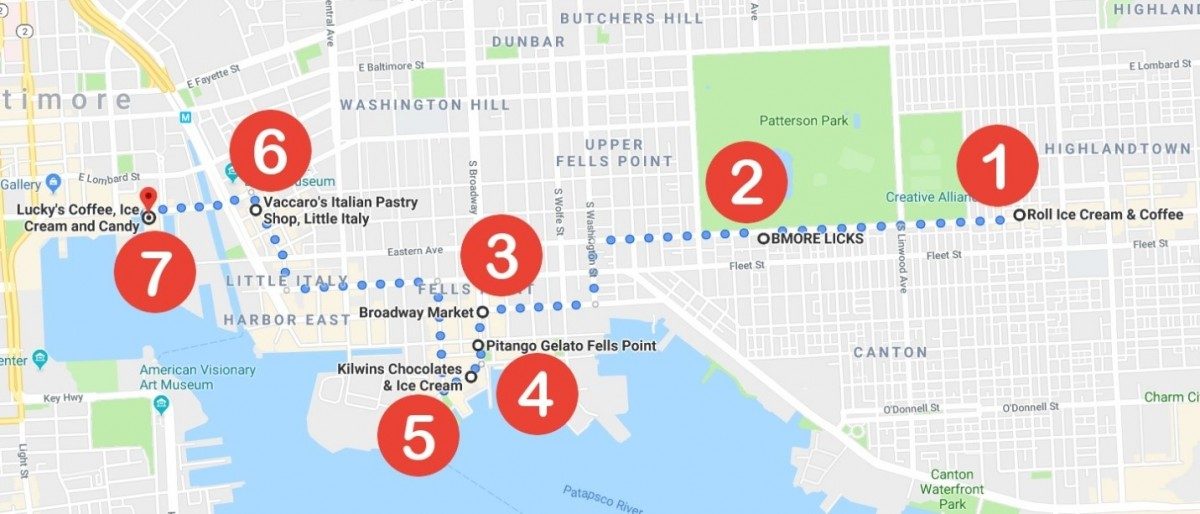 Begin your journey in Highlandtown, which is home to Baltimore's only rolled ice cream shop. We took an Uber to our first stop and walked to the next six — for those of you who aren't afraid of a little walking and a lot of ice cream, see a description of our route below.
Stop #1: Roll Ice Cream & Coffee
Rolled ice cream is a unique frozen dessert that originated as a street food in Thailand. Roll Ice Cream & Coffee owners Jessica Reyes and Jason Werner brought the treat to Highlandtown in late 2017, setting up shop in the building that once housed Bolewicki's Appliance Center. Reyes says, "As we like to say, life is too short for boring ice cream. Occasionally, people will ask if our ice cream is 'real ice cream,' and I get a bit of a giggle. I'm sure it seems like sorcery or magic if you've never encountered it before. But, in actuality, our ice cream is as real — and fresh — as it comes: milk + cream + sugar + a little salt, that's it."
Neighborhood: Highlandtown
Most popular flavor: Cookie Jar (sweet cream base with Oreos, cookie dough, whipped cream and chocolate drizzle)
Strangest flavor: Tropic Like It's Hot (sweet cream base with banana, mango, chamoy and Tajín seasoning)
We tried: Matcha Made in Heaven and Who You Callin' Shorty
Did you know? Baltimore artist José Vigo recently painted a mural inside the shop, which you can check out during the neighborhood's monthly First Friday Art Walk.
Stop #2: Bmore Licks
When Bmore Licks opened in 2017, there were few walkable options for dessert near Patterson Park. "We loved the idea of being able to get an ice cream and stroll around the park or the pond," says co-owner Kimberly Proctor. The shop offers over 100 different flavors of made-to-order soft serve, 30 rotating flavors of hard ice cream, and specialty desserts like snowballs and ice cream tacos. Stop by the outside service window for a dog-friendly ice cream treat before crossing the street to enjoy the park.
Neighborhood: Patterson Park
Most popular flavors: Cookie Monster (blue vanilla base with cookie dough, Oreos and chocolate chip cookies) and Blondes Have More Fun (vanilla base with butterscotch ribbons and house-made blondies)
Strangest flavors: O's & Bro's (creamsicle base with brownie bites and chocolate chunks) and Harbor Water (chocolate base with salted caramel swirl, Old Bay marshmallows and chocolate crunchies)
We tried: Maryland Mud and Strawberry Cheesecake
Did you know? Four of Proctor's six siblings are in the ice cream business!
Stop #3: Taharka Brothers in Broadway Market
This ice cream shop offers a mix of the old with the new — the market first opened in 1786, but the 21st century ice cream company has its roots in social change and community activism. You've probably seen their hot pink, crowd-funded ice cream truck around the city, but now you can visit Taharka Brothers anytime in Fells Point. Check out this short documentary to learn more about the company's history and mission.
Neighborhood: Fells Point
Most popular flavor: Honey Graham
We tried: Cookie Dough and Salty Caramel
Did you know? The flavor Jazzman Blues (blueberry base with a jasmine flower swirl) is named in honor of Cornel West, who calls himself "a blues man in the life of the mind, and a jazz man in the world of ideas."
Stop #4: Pitango Gelato
Pitango Fells Point has been churning gelato and sorbet on location since 2007. It was the first of six Pitango locations to open, and sources fresh milk, cream and eggs from an organic farm in Pennsylvania. Pitango focuses on simple flavors and high-quality ingredients, favoring single-origin chocolate and real fresh fruit over artificial colors and flavorings. Founder Noah Dan says, "All this does not mean that our product is everyone's favorite, some people prefer blue ice cream and brambleberry crisp and there is nothing wrong with that."
Neighborhood: Fells Point
Strangest flavor: Black sesame
We tried: Hazelnut and Passionfruit
Did you know? 87% of Pitango's sales are to repeat customers!
Stop #5: Kilwins Chocolates & Ice Cream
The first Kilwins opened in Petoskey, Michigan, in 1947, and the company now has over 100 locations across America. Kilwins ice cream is still produced in Petoskey, but you can watch employees handcraft fudge, caramel apples, waffle cones, brittle and more in the Fells Point store. Franchise owners David and Karen Gilmore decided to open their own shop after visiting a Kilwins in Florida and falling in love with the unique ice cream. David Gilmore says, "It has a creaminess and richness of flavor because of the high butterfat content that makes it special."
Neighborhood: Fells Point
Most popular flavors: Sea Salt Caramel, Mint Chocolate Chip and Cookies & Cream
Strangest flavor: Superman (red, yellow and blue-colored with a fruity flavor)
We tried: Toasted Coconut and Cake Batter
Did you know? The Gilmores joke that they opened the store to feed their love of Kilwins Toasted Coconut ice cream!
Stop #6: Vaccaro's Italian Pastry Shop
Jimmy Vaccaro opened Vaccaro's Italian Pastry Shop in Little Italy in 1956, and it moved to its current location in 1986. The business is family owned and operated — in fact, the entire Vaccaro family works at Vaccaro's. The shop makes a variety of Italian desserts at its Highlandtown facility, including cannoli, gelato, rum cake, cassata cake, tiramisu and 34 different types of Italian cookies. Nicolette Vaccaro says, "The most rewarding experience for us is when we are able to make customers happy. We have customers who have been coming to Vaccaro's for years and have made our family tradition a part of their families' traditions."
Neighborhood: Little Italy
Most popular flavor: Chocolate Chocolate Chip
Strangest flavor: Holy Cannoli
We tried: Baci (chocolate hazelnut) and Holy Cannoli — if you're dining in, try four flavors of gelato with a gelato flight.
Did you know? One person makes all of Vaccaro's gelato!
Stop #7: Lucky's Coffee, Ice Cream and Candy
Located in the Power Plant since 2012, Lucky's sells locally made Taharka Brothers and Glenview Farms ice cream. The women-owned and operated shop also offers soft serve ice cream, candy, cookies and Starbucks coffee. Owner Lucky Thompson says, "It is extremely rewarding to see how far we have come and know that all of the hard work has been worth it."
Neighborhood: Inner Harbor
Most popular flavors: Cookie Dough and Coffee Oreo
We tried: Lucky Charms and Coffee Oreo
Did you know? The new Taharka Brothers flavor Lucky Charms is produced exclusively for Lucky's!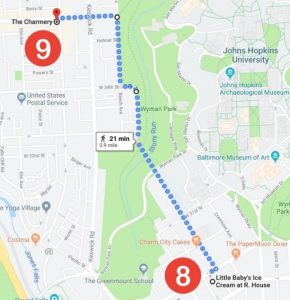 Use your choice of transportation to travel to R. House in Remington — we took an Uber, but you may be able to catch the Homewood-Peabody-JHMI shuttle in Mount Vernon or take the Charm City Circulator from the Inner Harbor to 27th Street.
Stop #8: Little Baby's Ice Cream in R. House
The Baltimore location of Little Baby's Ice Cream opened in R. House in 2016, but the Philadelphia company began selling ice cream from tricycle carts in 2011. Little Baby's is known for its unusual flavors, including Earl Grey Sriracha, Everything Bagel and Maryland BBQ. Co-founder Pete Angevine says, "We are in business to bring people joyful new experiences, and it is extremely rewarding to see that in action when our customers are eating some of our flavors for the first time and have that special feeling of being confused and grateful at the same time."
Neighborhood: Remington
Most popular flavor: Chocolate Salt Malt
Strangest flavor: Little Baby's sold limited-supply CBD oil ice cream at one location in Philadelphia.
We tried: Rhubarb Fenugreek, Chocolate Salt Malt and Vanilla Cardamom Cream
Did you know? Little Baby's Ice Cream is "internet famous" for its commercial featuring a person made of ice cream.
Stop #9: The Charmery
The Charmery opened in Hampden in July 2013, and owners David and Laura Alima have since launched stores at two additional locations. The shop serves homemade ice cream with a dose of Baltimore quirk. "Our shop is an extension of Baltimore — and what better way to experience a city, than through ice cream," says Laura Alima. Be sure to grab a loyalty card to earn a spin on the "Wheel of Wonder," because chances are, you'll be back again soon.
Neighborhood: Hampden
Most popular flavor: Maryland Mud (chocolate base with dusted Oreos, crushed Oreos and mini M&M's)
Strangest flavors: Old Bay Caramel and Cheese & Crackers
We tried: Whole Bean Coffee and Pink Panther Sorbet
Did you know? The large "R" in the Charmery logo is a nod to "Rx." The original Hampden location was once a community pharmacy, and owners David and Laura Alima's grandfathers both owned pharmacies.
BONUS Stop #10: Quinn's Ice food truck
Quinn's Ice offers lactose-free soft serve ice cream and milkshakes mixed with custom toppings and syrups. Co-owner Mila loves creating new treats to satisfy her customers' cravings. She met her high school sweetheart, Denis, in Germany, and when one customer asked for a Schwarzwälder Kirschtorte (Black Forest cake), she created a new sundae special with vanilla ice cream, crushed chocolate brownie, cherry topping and whipped cream. "What I love the most about owning the ice cream truck is that we have three flavors to work with — so we have to be extremely creative. The people that come to our truck get more than just ice cream by the scoop. We try to connect with every single person," says Mila.
Most popular flavor: Strawberry Shortcake Milkshake
Strangest flavor: Vanilla soft serve with Old Bay seasoning
We tried: Chocolate soft serve with chocolate sprinkles in a raw cookie dough cup
Did you know? Quinn's Ice is named for the owners' daughter, Hannah Quinn, and "eis," the German word for ice cream!
Still reading? Want to plan your own ice cream crawl?
The rules are simple: 1. Check the hours before you go. 2. Some locations are cashless, so make sure to bring a card. 3. Go with friends and share a scoop or two at each stop. We brought our own small cups and split two single scoops between six people to avoid ice cream fatigue. 4. Now's your chance to try the weird flavors — if you don't like one or two, it's no great loss. 5. You don't have to finish in one day, but it's definitely better that way.
So head out for glory, stay the course and return a bona fide Baltimore ice cream crawl champion!
Walking Route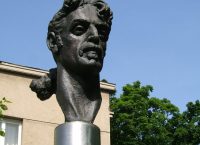 Stop #1: Roll Ice Cream and Coffee
Begin the ice cream crawl at 3222 Eastern Avenue in Highlandtown. You can see a map with the first seven stops here.
Stop #2: Bmore Licks
Detour two blocks east to see a bust of Frank Zappa on a 12-foot pole, which was commissioned by the Frank Zappa Fan Club in Vilnius, Lithuania, and is now located at the Southeast Anchor Branch of the Enoch Pratt Free Library. Continue to Bmore Licks by heading west on Eastern Avenue toward Patterson Park.
Stop #3: Taharka Brothers in Broadway Market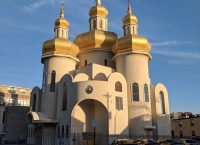 Continue west on Eastern Avenue. You'll pass the iconic golden domes of St. Michael the Archangel Ukranian Catholic Church, which was modeled after a church in Kiev. Turn left (south) onto South Washington Street, then right (west) onto Aliceanna Street. Continue on Aliceanna Street until it intersects with South Broadway. Here you'll find the newly renovated Broadway Market, which houses stop #3.
Stop #4: Pitango Gelato
Head south on South Broadway for about a block — Pitango Gelato is located just south of the intersection of Lancaster Street and South Broadway.
Stop #5: Kilwins Chocolates & Ice Cream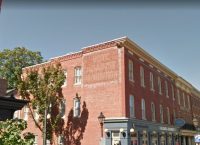 Continue south on South Broadway. As you cross Shakespeare Street, turn around to see a faded 1920s "Vote Against Prohibition" sign on the brick wall above Insomnia Cookies. Turn right (southwest) onto Thames Street, and Kilwins will be on the left.
Stop #6: Vaccaro's Italian Pastry Shop
When leaving Kilwins, look across the street to the Horse You Came In On Saloon, which has been a continuously operating bar since 1775 and claims to be Edgar Allen Poe's last stop before his death. Turn right (north) on South Bond Street, then left (west) on Fleet Street. Continue on Fleet Street for about four blocks before turning right (north) on Albemarle Street. Vaccaro's will be on the left, just past the intersection of Albemarle Street and Stiles Street.
Stop #7: Lucky's Coffee, Ice Cream and Candy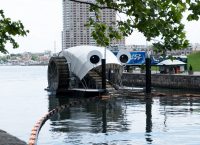 Continue north on Albemarle Street for one block, then turn left (west) on East Pratt Street. Detour down East Falls Avenue to visit Mr. Trash Wheel, or continue on East Pratt Street across the canal of the Jones Falls. As you cross the water, look north to see the Shot Tower and the bell tower of St. Vincent de Paul Catholic Church. Continue on East Pratt until you reach Harbor Bridge Walk, and Lucky's will be on your left.
Stop #8: Little Baby's Ice Cream
Use your choice of transportation to travel to R. House in Remington.
Stop #9: The Charmery
Head northwest on Remington Avenue. After passing through Wyman Park, turn right (north) on Gilman Terrace. Keep an eye out for a Little Free Library in the Gilman Terrace Community Garden. Follow the edge of Wyman Park along West 34th Street and Beech Avenue, then turn left (west) on West 36th Street. The Charmery will be on your left at the intersection of West 36th and Chestnut Avenue. You can see a map of the route here.
Stop #10: Quinn's Ice food truck
No Baltimore ice cream crawl would be complete without an ice cream truck! Visit the events page to find out where Quinn's Ice will be next.
---
Related Content
Want to read more from the Johns Hopkins School of Medicine? Subscribe to the Biomedical Odyssey blog and receive new posts directly in your inbox.