Building density and the use of materials such as concrete and pavement make urban areas, including Baltimore City, extremely harsh environments for wildlife. The use of these materials causes an urban heat island effect, which means that parts of Baltimore City are hotter by an average of 8 degrees than surrounding suburbs on a given summer afternoon due to how these and other building materials retain heat. The use of these impermeable materials also causes flash floods since concrete cannot absorb the same amount of water as soil. These flash floods result in stormwater runoff that pollutes our local waterways by increasing levels of bacteria, nitrogen and trash. Each of these factors also contributes to the loss of local pollinator populations — which includes bees, wasps and birds — through habitat destruction.
Many of the solutions to environmental problems posed by urban development design will take large community efforts, but we can also one small step ourselves by propagating native plant green spaces around Baltimore City, no matter the size.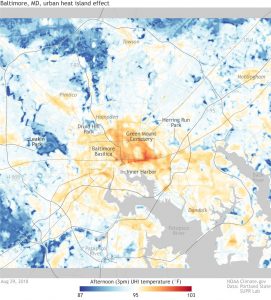 The image above shows the temperature in different areas of Baltimore on a day in late August 2018. This image was provided by the National Oceanic and Atmospheric Administration with data from the Portland State University Sustaining Urban Place Research Lab. Large green spaces in Baltimore City such as Patterson Park, Druid Hill Park and Green Mount Cemetery are much cooler than paved parts of the city. Expanding the green space into our private residential areas by planting small gardens can further curb the heat. In addition, small residential gardens account for 85% of food for pollinators in urban areas. These gardens also fight stormwater runoff and erosion by absorbing water and retaining soils with their root systems.
As trainees, I know many of us don't have small backyards to plant in. We're mostly renters, but I'm here to tell you that even small gardens made up of potted plants help absorb water and make a difference for local pollinators. You can plant them anywhere from apartment balconies to window boxes, to potted plants outside your building. The best part is that you can also take potted plants with you whenever you move, no replanting required.
To maximize the impact of your little garden on the local ecosystem, make sure that you're planting flora native to the Chesapeake Bay area. Our local pollinators have adapted to thrive in environments with these plants over millennia. Planting native also makes your garden easier to take care of, as these plants are adapted to the Chesapeake Bay climate. It might seem a little daunting to take on a task of only planting native plants in your garden, but Blue Water Baltimore's Herring Run Nursery has a great selection of local plants and experts available to help you. Patterson Park Audubon Center has also put together a list of local native plant nurseries, and most of them deliver.
Here are a few more lists of plants you might want to try, especially if you're looking for container plants. Personally, I chose a dwarf crested iris and some bluebells from Herring Run Nursery.
And if you're really feeling ambitious, try out the Bay-Wise Maryland Yardstick for Small Space Urban Gardens, Townhouses, and Apartment Balconies to measure the effectiveness of your small garden on improving Bay Health.
Happy planting!
---
Related Content
Want to read more from the Johns Hopkins School of Medicine? Subscribe to the Biomedical Odyssey blog and receive new posts directly in your inbox.