Being a Medical Student Subintern in Labor and Delivery
Every medical student undergoes several rites of passage. There's anatomy dissection during the preclinical years, the first board exam called Step 1, then a dizzying year of various required clinical rotations that range from pediatrics to psychiatry to surgery. The medical student clinical experience is finally topped off by a "subinternship" rotation.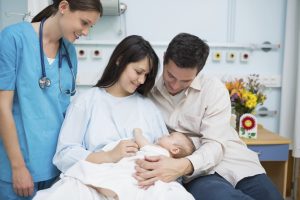 A subinternship — also known as an acting internship — is a chance for fourth-year medical students to practice being a first-year resident physician, also called an "intern." Under the guidance of the resident and attending physicians, the fourth-year subintern is given more responsibility than a typical medical student, in order that he or she might better gain the skills and knowledge needed for residency. Thus, the subinternship rotation is typically chosen in a field of medicine that the student is interested in pursuing for their career.
One month ago, I began my subinternship rotation on the labor and delivery floor at The Johns Hopkins Hospital. I had scheduled the rotation a couple of months prior, after I finally made the decision in my heart and mind to pursue obstetrics and gynecology (OBGYN). It had been over a year since my required OBGYN rotation, but a recent stint with the gynecology oncology service during spring break washed away any hesitancy I had about pursuing a career in women's health.
Still, my whole body was tingling in nervous anticipation as I waited in the elevator in the Zayed building on my first night as a subintern. As the elevator smoothly passed each floor, my doubt and apprehension heightened. Labor and delivery had been one of my favorite parts of third year. But what if I realized that OBGYN wasn't the field for me once I was waist-deep in it? What if my personality just didn't jibe with my team's? What if I was completely inept as a subintern? The elevator dinged; the doors opened on the eighth floor of Zayed. I gulped, suddenly shy, as I walked towards the tall double doors of the labor and delivery floor.
The next morning, I left smiling, with an eagerness to return. Although I initially felt far from adequate, I was supported by a caring resident team and encouraged to face my fears, and to practice in the areas where I lacked confidence. Whether counseling women on contraceptive methods, measuring the amount of amniotic fluid cushioning their unborn babies, or performing vaginal deliveries, I felt that I was a part of the Hopkins care team, aiming to provide my best to the women who came to be evaluated and to deliver at Hopkins. There were incredible highs and difficult lows during my subinternship, and through it all, I fell more in love with the field of OBGYN.
---
Related Content