At the time, chaos and disappointment were all I saw in Baltimore.
Imagine sitting at the sixth story window, looking out across the Baltimore skyline, and seeing fire. Heading to work around 8 a.m., news circulates that armored vehicles are set to post around the medical campus, should riots become unruly. Morning turns to lunch, and it's the same Asian chicken salad once again. When it was time to get home, it wasn't clear whether public transport would be running anymore, given the current state of emergency. Thankfully, Uber remained online. Hoping to treat myself to some haute cuisine after another day in Baltimore, I stepped off to Chipotle, only to find it closed.
Now, to juxtapose social ills alongside crappy food and campus envy might seem odd, perhaps disrespectful, but it all touches upon something that everyone has the right to pursue and gripe about: quality of life. Scrutinizing how we carry out the finite seconds, minutes and hours of our lives deserves the utmost respect.
For me, riots and crappy food hold similar weight. Not because riots aren't important — it's that food and drink, for me, are what life is all about. So when I made the choice to move from sunny California to Baltimore, I felt like I betrayed myself.
Committing to Baltimore, despite our eminent university, was an investment I was at first reluctant to make, but that investment has since appreciated handsomely. Baltimore's impressive evolution in the past half-decade deserves more praise, and here I will sing it.
I originally touched down in Baltimore over half a decade ago as an undergraduate. Back then, in the Charles Village neighborhood, there was but a dive bar, two crappy sandwich places, a Cold Stone Creamery and a money laundering operation masquerading as a cafe (not joking).
In stark contrast to today's ramen joints, taquerias, smokehouses, breweries, ice cream shops and the like were derelict buildings and undeveloped swathes of dirt. Day in and day out, be it the Homewood campus or medical campus, I had a Subway sandwich. When it was time to relax, it was always the same dive bar, with the same light beer and weak rail drinks. Should I have a hankering for anything entertaining, I could watch a movie … or maybe ride a bike and hope one of Baltimore's bathtub-sized potholes wouldn't swallow me whole.
But somewhere between 2012 and 2018, business owners gave Baltimore a chance.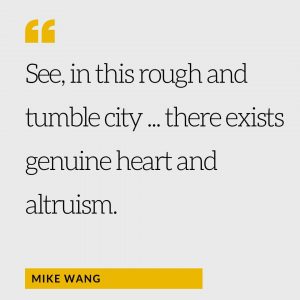 The first glimmer, an establishment still very close to my heart, came by way of the Charmery. It is an ice cream establishment that is the best, not only in Baltimore but perhaps anywhere in my lifetime. Rumor has it that the owners traveled the world sampling ice cream before launching their own eccentric creamery, and it shows. Much like ice creams found in the Middle East, Charmery ice cream is thick and sticky, almost like taffy.
One of the fondest memories I have of Baltimore is sitting alone in the Charmery, eating malty vanilla ice cream in the middle of a January ice storm, soaking in the old school reggae they always played — greatly bemused at the absurdity of a grown-ass man eating ice cream alone in the dead of winter.
Then came Union brewery, which stood above the amateur and rough-around-the-edges local beer offerings by a country mile. Each and every one of their beers, from their thick double IPA to their crisp Pilsner, impressed me to the point that I wondered what the hell they were doing in Baltimore. In time, they expanded and opened up two bars, which both share an unpretentious, quirky, but tasteful atmosphere that is so quintessentially Baltimore.
Imagine how overjoyed I was when the Charmery and Union expanded to an industrial complex right alongside each other, with a rock climbing gym and pizzeria in close proximity. The first Friday of every month, the rock-climbing place offers free beer, which my buddies and I freely imbibe until we get hungry for pizza, which is conveniently served across from Union's bar. Today, I refer to that collective warehouse as an adult Chuck E. Cheese.
At that point, I still yearned for the California living of my childhood, but Baltimore had two things home did not: insanely good ice cream and beer.
As time went on, and I converted increasing amounts of my paltry student stipend into beer and ice cream, my prejudices against B'more began to wane.
Soon after, I had one of the most touching moments of my life at a South Asian place called Nepal House. Having enjoyed many an Indian dish back home in Silicon Valley, I was enormously skeptical that Baltimore would have anything up to par. I was so wrong. Nepal House has a breadth of options I'd never experienced before. Their standard fare — the tikka masala, saag, baingan bharta — were all excellent, but they also had less-known dishes. Their menu featured stuff like lamb keema mutter, Indochinese chow mein and one of my new favorites: momos.
It was only by chance that I tried the venerable momo. My SO and I were stuffing ourselves as we always did at Nepal House, when I saw this dumpling-looking thing bussed to a neighboring table. I'd never seen one before, and couldn't help but glance at it once in a while, until the lady who ordered it caught me staring. Instead of writing me off as a weirdo and going about her day, she chuckled, struck up a conversation and offered me a momo. I almost shed a tear.
See, in this rough and tumble city, even among the crime and viciously rude driving, there exists genuine heart and altruism. I saw it more as time went on: when four passersby helped my girlfriend get her car out of the snow; when I searched for parking to find a random family aggressively flagging us down because they still had two hours on the meter; or the time a waiter at a crab joint invited me to his birthday party after work, just because we had similar tattoos.
I could go on and on, be it Hampden's insanely delicious and fascinating Belgian beer hall, to some of the best Vietnamese pho I've ever had, to reasonably priced cocktail bars offering some of the rarest whiskies in the world for the price of a San Francisco vodka soda, to a cheap-as-all-hell Korean barbecue place, to B'more's awe-inspiring street art — but you get the idea.
For a born-and-bred nerd and yuppie more accustomed to journal clubs and wet labs than seedy housing developments and drug dealers offering me free heroin, Baltimore holds its own. Should you be drawn to Baltimore for a world-class education and have misgivings about the locale, dispel them. It's awesome here. I'll see you at Chuck E. Cheese.
---
Related content
Want to read more from the Johns Hopkins School of Medicine? Subscribe to the Biomedical Odyssey blog and receive new posts directly in your inbox.